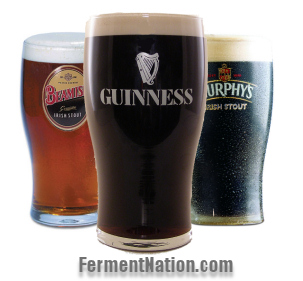 Sorry for the delay, dear citizens, but technical difficulties have delayed the release of the St. Patrick's Day video footage. Never fear, however. This shall not keep McPresidente from his appointed rounds. Or from his appointed duties, for that matter.
Slater's Pub in Audubon, NJ provided the backdrop for this roundtable discussion/blind taste test between the three most standard and popular of the Irish Stouts available in this area. Several other stouts can be found in bottles, and some others only appear on draft. These three are the ones we could find in the pub-draught cans: Guinness, Beamish, and Murphy's. Each of the three rounds was brought to the participants without their knowledge of the brand. Each was ranked according to the standard rankings. Finally, after all three rounds were finished and ranked, we guessed at the brands. Not to brag, but we nailed it.
Round One
:
This stout is pretty tasty and pretty smooth. Quite drinkable, but lacking some pizazz. Overall, a darn fine brew. We guessed Murphy's. We were right.
Representation
: .80
Accessibility
: .85
Style
: .75
Personal Preference
: .80
Total Score: 3.2 Flags
Round Two
:
Definitely not our favorite. Different from the rest, yes. But not necessarily in a great way. I really like Irish stouts, so my personal scores would have been a bit higher. But the other participants were not so forgiving. We compromised and settled on the following scores for the second stout, Beamish.
Representation
: .70
Accessibility
: .70
Style
: .80
Personal Preference
: .70
Total Score: 2.9 Flags
Round Three
:
Yeah. There it is. Nobody second guesses himself now...Guinness. We tried to explain the rankings at this point to an observer who wanted to know what Accessibility was. When I explained it in terms of, "Could you drink it all night?" my cousin Bud (a.k.a. Buddy Love, a.k.a. J.T.) responded simply, "I have." Thanks, Bud, for setting the record straight.
Representation
: 1.0
Accessibility
: 1.0
Style
: 1.0
Personal Preference
: 1.0
Total Score: 4.0 Flags.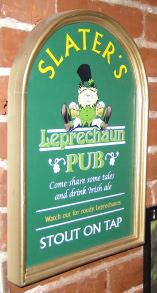 So there you have it. The first family wishes you and yours a happy St. Patrick's Day (although a bit belated). So many stouts are out there (not jus the Irish ones). We love them, too. So keep your eyes open for some more round table discussions. We had fun doing this one, and hopefully you enjoyed the reading. Citizens, if you get one going for yourself please share the results with me at
president@fermentnation.com
. I would love to post your results as well.