Oh boy...
Before discussing the event itself, one needs to travel with your loving president from his ranch in New Jersey to the Navy Yard of South Philly by way of public transportation. Patco to Broad Street to the Stadiums and finally a free shuttle to the event.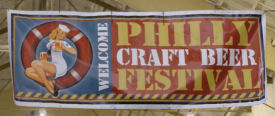 The rambling yellow school bus rolls into view bearing a single hand-scrawled sign slapped up in one of the windows. The sign reads simply, "Beerfest". Do you know how many people could be lured to their deaths by pulling up in a "Beerfest" bus and shouting, "Come on in. Free ride!"? The smoking driver herds the passengers in like cattle and a few people even ride standing up surf-style in the aisle. Yes, I was one of them. The anxious human cargo is unloaded at the Navy Yard at about 11:30 and by the time the doors open just before noon, the line stretched around the corner with the thirsty crowd breathless with antici ... pation.
Stepping into an event of this magnitude is sometimes tricky but the "Brew Crew" did an outstanding job of efficiently handling the eager massses. Wrist band ... check. Tiny souveneir sampling glass ... check. And so it begins.
With 50 breweries and over 120 beers to sample, please realize that I'm only human. I kept track of as many as I could but bear in mind that I couldn't possibly review all the beers in the customary manner. It's not long before one begins to "time travel" so what I can do is run down the list of beers I know for sure I tried and give just one or two words of description for each. Let it be known that I didn't have one beer that was grody. The brewers brought their A games and it paid off for the participants. Here goes:
Heavy Seas Loose Cannon Uber Pils
: smooth and refreshing, crisp and drinkable.
Sierra Nevada Schwarz
: very smooth, roasty and delicious .
Legacy Hoptimus Prime
: ZING!
Blue Point Hoptical Illusion
: Not too hoppy, mellow, light.
Straub Premium
: Solid. Very solid.
Lancaster Rare Rooster
: zesty.
Victory Baltic Thunder
:
BOOM!!
Roy Pitz Watermelon Lager
: summery.
Belhaven Scottish Ale
: Yummy (in a manly voice, rubbing belly optional).
Paper City Hop Monster
: Wooooo! Hop Juice!
Leinenkugels Sunset Wheat
: fruity and wheatish and fruity.
Hook and Ladder Golden Ale
: Worth its weight.
Hook and Ladder Draft Brown
: Highly drinkable. One of my faves of the day.
Rogue Kells
: good Irish lager. St Patty's is on the way.
Anchor Bock
: Yaaaay! Hooray for Anchor. Another worth mentioning.
Ithaca Apricot Wheat
: Light and fruity, not too much of either.
Ithaca Caskazilla
: Red Ale, similar to Hoptimus Prime but darker. Presidential Honors!
Triumph UFO Hefeweizen
: mellow. Mmmmm.
Dock Street Rye IPA
: Bitter, tangerine, lemon peel. Clean. Good.
Smutty Nose Smut-a-roni Wild Rice Beer
: decent.
Smutty Nose Robust Porter
: Roasted and powerful. Success.
Voodoo Big Black Voodoo Daddy
: Holy crap. Huge beer! High marks.
Unibroue 17
: F'n delicious. Unibroue is growing on me more and more.
River Horse Batch #001 Belgian Double Wit:
Bottle conditioned brewer's reserve. This was my last beer of the day, and it made quite an impression. Can't wait to have this one again soon.
All the brewers' representatives were knowledgable and pleasant (except for one guy -- and you know who you are). The crowd was friendly and knowledgeable as well. A festival of this caliber draws the right kinds of people: those who know what they like and those willing to learn. Even as everyone became "energized" there were no disruptions or security issues that I observed. I attended the first session from 12-4 pm. If anyone reading this entry would like to share some of their opinions about either session, about the beers reviewed, or about a beer they particularly enjoyed, please do so by posting a comment or emailing me at
president@fermentnation.com
.
Thanks for reading, and I look forward to my next journey to a brew fest as soon as possible. and thanks again to the folks who made this event so enjoyable.