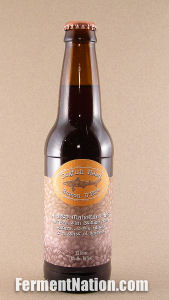 Dogfish Head
Raison D'Etre
One of my all-time favorites! Dogfish Head Brewery holds nothing back when they brew their "off-centered ales for off-centered people". Sometimes subtle, often over-the-top, Dogfish Head challenges beer drinkers to open their minds. Raison D'Etre is hard to describe because it is so near to perfection.
Raison D'Etre
is a "deep mahogany ale brewed with Belgian beer sugars, green raisins, and a sense of purpose." The sweetness comes from raisins; this provides a deeper, fruity essence as opposed to a sugary one. There is a dry, wine-like quality that counteracts the sweetness, however, so the brew is dry and crisp -- not syrupy.
Around these parts, Raison doesn't usually appear on tap, but I've had it at Dogfish's brew pub in Rehobeth, DE. That is an experience. That taste is so distinctive that bottle or draft, you know you're drinking Raison!
This ale is entirely unique. It is a masterful fusion of fruit and beer and magic. From aroma to finish and right into your next beer, Raison D'Etre stands alone in its individuality. If you're trying this beer for the first time, hold onto your hat. The flavor forces your tastebuds into action right away. Your lungs struggle as Raison steal your breath. You heart breaks when the glass is empty. But stay alert -- your brain needs to know that Raison is 8% abv.
If you love beers that take a chance with bold flavors, drink Raison D'Etre. If you dig a good belgian tripel and an ale with a good body ... if you like the complexity of a dopple bock or a weizenbock ... perhaps the refreshment of a fruit beer ... dryness of a wine ... This beer has it all. Bold and beautiful.
Dogfish Head
Raison D'Etre
:
Representation: 1.0
Accessability: 1.0
Style: 1.0
Personal Preference: 1.0
Total Score: 4.0 Flags
.