Slater's Pub on St. Patrick's weekend was a happening place, indeed. Aside from the festivities surrounding the Irish Stout Round Table Discussion was the unveiling of Buddy Love's Irish Red homebrew. A relative newcomer to the homebrewing process, Buddy Love has only brewed two batches that we know of. The first was an American Pale Ale (I think). The Party Pig brewing kit brewed beer. That's about as remarkable as we can get with that one. The APA had some decent flavor, but virtually no body to speak of. The second attempt came in the form of a refreshing Irish Red. Medium body, dryish, and pretty darn good.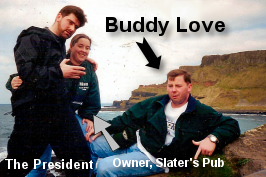 The mechanism for creating pressure inside the vessel which pours forth the carbonated brew had apparently been tweaked during recent months, for the Irish Red rocketed forth from its container like a torrent of St. Patty's cheer. In fact, the pressure was too great to be contained in a normal glass. The answer? A pitcher. So we all shared from the pitchers of the homebrew while laughter and party chatter filled the pub. But every once in awhile, the sound of a fire hose caused our heads to be turned to the back porch. Was Slater's on fire? Hardly. The party pig was just filling a new pitcher full of holiday joy.
Homebrews are hard to rank according to standard methods, since each batch is a bit different. In fact, some batches contain great bottles that fermented properly and stanky bottles that didn't do so well. So Buddy Love's Irish Red doesn't have scores like a standard review. But brew it again, sir, and we may have to do something about that.
Keep your eyes peeled, citizens, for an article about Chubby's homebrews. We have much to discuss.