Stoudt's
Old Abominable
Barleywine-Style Ale:
Although this is a pretty darn good brew, I have to say I was mildly disappointed in
Old Abominable
on two levels:
1. Stoudt's has proven time and time again to be a reliable brewery in its daring and boldness. Their Fat Dog Stout is among the leaders in its class. APA is downright beautiful. The Scottish Ale will blow you away. Double IPA, same thing. This Barleywine, however, doesn't quite live up to the same courageous standards.




I have recently gotten into Barleywines and have sampled quite a few in the past 5-6 months. Old Abominable is not the greatest among these.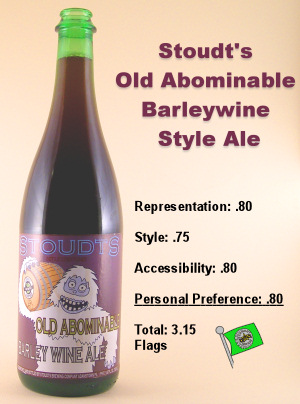 On the plus side, this may be the perfect Barleywine Style Ale for someone who hasn't yet been introduced to the style. The flavors are mild and the alcohol is a bit lower than most (a mere 9% abv). Light in body, Old Abominable fairly disappears off the tongue upon swallowing. Again, this light version may be cool for people who are tentative about trying a barleywine. If you like Old Abominable, venture forth to Weyerbacher's Blithering Idiot. This is my personal favorite so far (a 4.0) but different variations include Victory Old Horizontal, Sierra Nevada Bigfoot, and Dogfish Head Olde School (check out reviews of these three in our archives). Again, this is not a bad review, but I call 'em as I drink 'em. And I've drinked better.
Stoudt's Old Abominable Barleywine Style Ale:

Representation: .80
Style: .75
Accessibility: .80
Personal Preference: .80
Total: 3.15 Flags