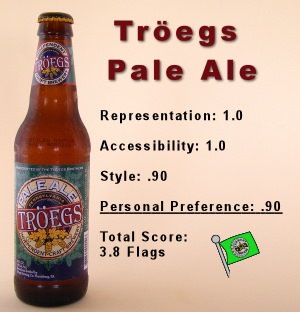 Troegs
Pale Ale:
I've been thinking alot lately about the summer season coming up. The Presidential grill has just been fired up for the first time, and the upcoming barbecue season is heralded by the warm weather on its way to this great nation soon enough. Some beers are specifically designed for the summer season, like summer ales, summer fests, and farmhouse ales. But I refuse to leave out the traditional pale ale as a dynamite summer treat.
Troegs
Pale Ale is a classic pale ale with just enough hops to intrigue the tastebuds. Dry enough to keep the drinker thirsty and clean enough to satisfy. Hot days stand no chance against this ghostly pale Troegs offering. "Holy-Cow" type drinkability with smooth flavor and light to medium body. 5.4 % abv won't kill you (unless you aren't properly hydrated in the heat of the summer, or on a crabbing trip. For the love of God, bring some water or Gatorade if you go crabbing!) so drink up. The folks at Troegs have even admitted that this beer is one of their flagship brews, noting that the Troegs name is incorporated into the logo, appearing smack dab in the middle of the label on this special beverage. I might even go so far as to say that Troegs Pale Ale qualifies as a "gateway" beer. If you want to enroll in Craft Beers 101, be sure to notice this one on the syllabus.
Actually, here's a thought: The Troegs variety 12 pack available in these parts contains 3 each of Pale Ale, Hop Back IPA, Rugged Trail Nut Brown Ale, and Dreamweaver Wheat; Show up to a barbecue with this assortment of easy-drinking craft beers and be a hero. Save the barbecue and convert beer drinkers into citizens of the Ferment Nation!
Troegs
Pale Ale
:
Representation: 1.0
Accessibility: 1.0
Style: .90
Personal Preference: .90
Total Score: 3.8 Flags