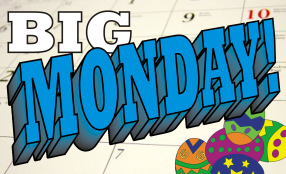 Greetings, citizens. This entry comes a little behind schedule, but please remember that every holiday, real or imagined, has a certain recovery period that must be observed. This particular holiday, Big Monday, was brewed up several years back when a bunch of friends (the humble beginnings of FermentNation's cabinet) gave up a bunch of stuff for Lent: fast food, soda, alcohol, meat, and various other not-so-good-for-you goodies. So the Easter holiday was celebrated with family, and the next day was the real celebration. Arby's has the biggest, meatiest, fast-foodiest sandwich on earth: The Big Montana. Big
Mon
day...Big
Mon
tana... Big beers... And so a new tradition was forged. Now there's only one of us left who actually gives up anything for Lent, but we still celebrate his victories with him. That's the kind of friends we are. So you're welcome, Chubby.
Speaking of Chubby, the Secretary of Zymurgy has been brewing his own beer for quite awhile now. They have been getting better and better, and his batch of porter which had its unveiling on Big Monday was a true success. Without a doubt, his best effort to date. Just a little bit dry, with a malty flavor and wonderful body.
Also on the docket for Big Monday was: Dogfish Head Palo Santo Marron, Dogfish Head Burton Baton Imperial IPA, Stoudt's Old Abominable Barleywine, and one of the biggest beers I've ever had, Weyerbacher Blasphemy. What better way to wash down a Big Montana? There is no better way. We have several other made-up holidays, and I will be sure to keep you informed of the ritual libations. Keep your eyes open for Chimay Day, coming soon.
There are reviews on the way to enlighten y'all about the happenings of Big Monday. Let me know what you think.