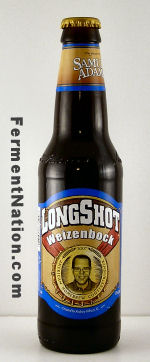 Samuel Adams
Longshot
Weizenbock:
The other winner of 2007's homebrew contest, Mr. Rodney Kibzey of Illinois, has done something pretty special. This Weizenbock gets into your chest and warms your whole body.
I can picture this complex and fruity and wheaty and alcoholy brew bringing feeling back into the bones of some poor avalanche victim on a ski trip. There he sits, shivering, wondering if he will ever see the beaming faces of his loved ones again as he freezes to death. Away slips his consciousness when from out of the mist bounds a Saint Bernard rescue dog with a cask around his neck. With the skillful dexterity that only Saint Bernards have, the rescue hound pops the cork and pours a shot of Rodney Kibzey's weizenbock.
This lifegiving ale has a deep fruit and wheat flavor, rich and a little spicy with noticeable cloves. The alcohol essence gives it a brandy-like quality. You know what this reminds me of? Mince pie. Goodness, if this beer is still around next Thanksgiving, it's a no-brainer.
That settles it. I'm going to get a few cases of the Longshot combo. Since Lili Hess's
Grape Pale Ale
will be greatly refreshing this summer and Rodney Kibzey's Weizenbock is a warming winter gem, it would serve to have some waiting for a special occasion. Both of the Longshot brews push the boundaries of beer, incorporating different elements and bringing together the different states of this FermentNation. Both of the home brewers should be commended on their efforts. Maybe your home brew will be the next Longshot to make it.
Samuel Adams
Longshot
Weizenbock:
Representation: .90
Accessability: .80
Style: .85
Personal Preference: .90
Total Score: 3.45 Flags