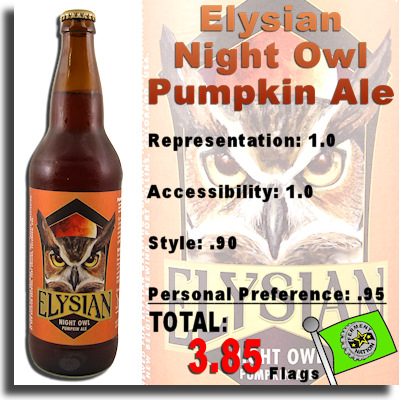 Elysian
Night Owl Pumpkin Ale
:
This is an extremely well-balanced beer, and an even better-balanced pumpkin beer. Nice medium body with a fairly creamy mouthfeel. The pumpkin flavor is not faint or thin by any means -- but has a freshness and clean finish that some other pumpkin brews lack. Really awesome aroma, too, but again: not overdone. The label boasts over 7 lbs of pumpkin ber parrel and spices include the usual supects: nutmeg, clove, cinnamon, ginger, and allspice. But somehow the formula rises to the top of an otherwise cluttered vat of seasonal offerings.
Elysian
Night Owl
is also a bit cloudy. I generally like this quality because it tells me that the ingredients are properly suspended in the brew and ready to be enjoyed with every sip. It's not a requirement, mind you, but I think in this case it adds to the body and the overall pumpkin experience.
Since one cannot avoid comparing a new pumpkin ale with its predecessors, I'll go on record as saying this Night Owl hangs with the big boys. Just as I place
Southampton
a little above
Shipyard
and
Saranac
because it had the good qualities of both. Well
Elysian
Night Owl
takes that "just right" feeling to a new level: It's "just righter".
Night Owl
offers enough pumpkinny fun to amuse at a party but it's refined enough to set on the dinner table. Of all the pumpkin brews I've tried, it ranks up there with
So. Tier
Pumking
and
Dogfish Head
Punk
.
Elysian
Night Owl Pumpkin Ale
:
Representation: 1.0
Accessibility: 1.0
Style: .90
Personal Preference: .95