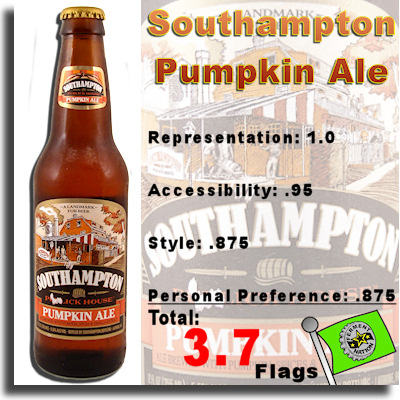 Southampton Pumpkin Ale:

Ooh. This is pretty nice. The pumpkin and spice flavors are lively and seasonal -- definitely got that pumpkin pie thing going on. The body is light to medium with a nice effervescence. Southampton is not over the top in style but has plenty to offer. Very accessible as well, with a fun burst of flavor but keeping it cool at 5.5% abv.
I can't help but compare Southampton to two others we've seen before: Southampton seems to posess the body that Shipyard Pumpkinhead is shooting for. At the same time it tones down the sweetness and intensity that Saranac Pumpkin gives us. Southampton looks quite comfy between the two and is recommended as a "bring with" to Halloween parties. Maybe a Thanksgiving Day Parade or football tailgater. Thanksgiving Dinner? Maybe not, but I suppose that's up to you.
Southampton Pumpkin Ale:
Representation: 1.0
Accessibility: .95
Style: .875
Personal Preference: .875