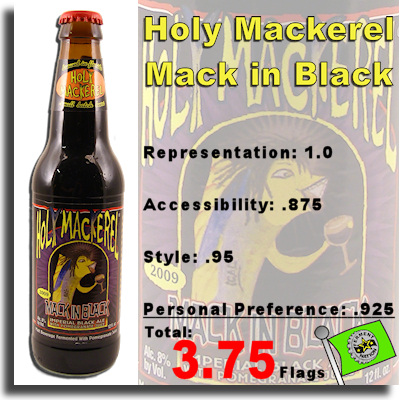 Holy Mackerel Mack in Black:

This Imperial Black Ale brewed with pomegranates is pretty sumptuous. It manages tart and sweet adn creamy and full-bodied with no problems at all. Mack in Black is a smooth fruit beer with the strong framework of a toasty ale, bordering on porter. The hop profile is subtle -- a modest presence in the finish -- but the pomegranate juice really nails it down, offering up a mellow and accessible flavor experience.
Many fruit beers are a little too sweet for my tastes. Or too tart. Or too heavy-handed. Or too boozy. Mack in Black is certainly a fruit beer but it is pleasantly complex and rich. It is most likely meant to be a dessert beer and I don't disagree. At 8% abv, it earns the "Imperial" moniker but won't beat you up. I may only choose to drink one and enjoy it and then move on to something else a little crisper and drier. I say this because if I were to drink two in a row, the math would become a little fuzzy: you know that beerquation when two equals five, plus a shot of Jager equals inexcuseable behavior, minus common sense plus pounding headache.
I would recommend Mack in Black to lovers of fruity porters and stouts and anyone who is afraid of dark beers because they might be too bitter. It is chocolatey and toasty but not bitter in the slightest. The Gordash Beer Company is new to me but I'm looking forward to more offerings.
Holy Mackerel Mack in Black:

Representation: 1.0
Accessibility: .875
Style: .95
Personal Preference: .925
Total Score: 3.75 Flags