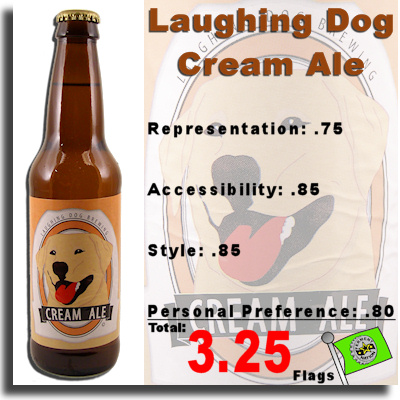 Laughing Dog Cream Ale:

There aren't a ton of Cream Ales out there so I'm happy to try one if it is available. This one from Laughing Dog is brewed with lager and ale yeasts. The texture is certainly interesting (perhaps due to the tag-team yeast concoction) and fizzy on the tongue. This cream ale is just a bit tart -- not exactly like a Flemish Sour brew but a bit metallic and zippy.
The color is pale yellow and Laughing Dog Cream Ale is just a touch cloudy. It reminds me a little bit of a wheaty pilsner at first sight but finishes much more tart. There's just a bit of lemony aftertaste when you've finished the first sip.
Overall, I'd say that the Laughing Dog Cream Ale is an okay brew for thirst-quenching on a hot day but it's not my favorite Cream Ale. I have to say I was expecting something more... well... creamy.
Laughing Dog Cream Ale:
Representation: .75
Accessibility: .85
Style: .85
Personal Preference: .80
Total Score: 3.25 Flags