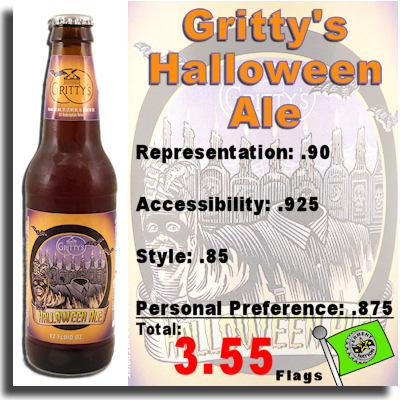 Gritty's Halloween Ale:

This may be the only Halloween Ale I've ever had. Pumpkin brews are usually geared for the haunted holiday but this is NOT a pumpkin beer at all. Gritty's Halloween Ale is an Extra Special Bitter Ale with a pretty stable malty base and nifty bitter finish. The coppery color matches the aroma: kind of earthy and metallic with a tang at the end.
Gritty's Halloween has a light to medium body and an interesting flavor. There may be just a hint of caramel in ther, or perhaps vanilla. But it's not sweet at all. kind of like a cowtail candy without the sugar. I'm not sure that makes any sense.
You know, here's an interesting tidbit: I drank about half this beer from the bottle before pouring it into a pint glass. Truth be told, I prefer it from the bottle. The air from sipping gives it just a little lift. Definitely on the short list to bring to a Halloween party. The scary label and specificity of the title make it a no-brainer. But aside from that, it's an interesting selection because of the earthy undertones and bitter "snap" at the end.
I've been to Gritty McDuff's in Portland, Maine a few times now. It is certainly a worthwhile stop in a very lively and cool town. Awesome place to visit -- recommended highly by the Cabinet.

Gritty's Halloween Ale:
Representation: .90
Accessibility: .925
Style: .85
Personal Preference: .875
Total Score: 3.55 Flags