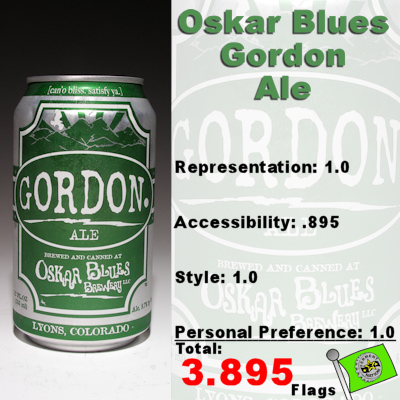 Oskar Blues
Gordon
Ale:
Described by
Oskar Blues
as an Imperial Red/Double IPA, this happily conflicted brew has a pretty big body and a mouthfeel like pineapple juice without the pulp. This imperial red/double IPA is described by
OB
as "
Big. Red. Sticky
." That about sums it up. In all actuality, this brew is hard to review because it is so sublime.
Pouring Gordon into a pint glass is a nice experience. The aroma wafts up and the bubbles swirl like a magic potion beneath the head. That's the flavor getting ready to greet you with gusto!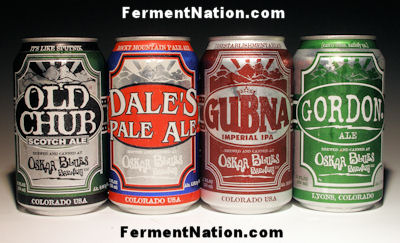 Complex in its composition, yet simple in its effect,
Gordon
reminds me just a bit of Victory's Yakima Twilight. Gordon is a little less hoppy but sweeter and redder. The hoppy bitterness doesn't pop to the front, but it certainly surfaces when the slightly syrupy, citrusy, floral goodness retreats a bit. There are plenty of malty flavors involved, but the result is more floral than earthy (refer to Ferment Nation's review of Yakima for contrast).
Hoppy but not bitter, sweet like a sticky bun, not like a donut... Whether double IPA or imperial red or whatever, I can't think of many beers like it. Stylish as hell, I love this brew! If any score is not quite perfect, it's Accessibility. 8.7% abv kinda precludes Gordon from being a session beer; And while this beer could confuse some folk, but twists my brain in a delightful way. Another gem from Oskar Blues.
Oskar Blues Gordon Ale:
Representation: 1.0
Accessibility: .895
Style: 1.0
Personal Preference: 1.0
Total Score: 3.895 Flags