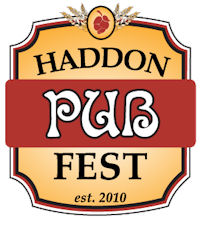 Late September marks the return of the amazing tradition known as Octoberfest. Well is it Septemberfest or what?! Actually, it would begin at the end of September and roll
into
early October when Bavarian brewers needed some new kegs to restart their brewing endeavors for the autumn. But anyway, our friends at the Haddon Pub Fest fired up the trolley and organized the Haddon Township, NJ brewfest, October edition. The presidential motorcade visited the establishments we missed the first time around.
We began at PJ Whelihan's where we took advantage of the Sam Adams Octoberfest and Boston Lager on sale for just $4.00 for a pint mug. The trolley transported us to the Taproom... but more about that later...
Tom Fischer's was next on the journey. There were lots of people having fun at Tom Fischer's but most of them were completely unaware that there was a brewfest going on in town. They were just there enjoying some football on the tube and whooping it up on the weekend.
Cork never disappoints!
Dale's Pale Ale
on tap... fabulous! The Cabinet met up there and we celebrated the festive atmosphere with lots of great conversation and great beer.
Brewer's (formerly known as Pat's Pub) was equally festive and joyous, as was Treno (love the pizza, by the way). Everyone got into the spirit of Octoberfest, alright. But back to the Taproom:
The Taproom really did it up right, with the aforementioned $4.00 Sam Adams, but get this... Souvenir mug, free tee shirt, and really jazzy Oktoberfest atmosphere. The folks at the Taproom went out of their way to partner with Sam Adams for the party. The servers all looked festive in Alpine hats and suspenders, and some folks from Boston Beer were there in full Oktoberfest garb (thank you, ladies!). And hats off to the hearty fellow pouring beers up front and handing out those awesome mugs and shirts.
In conclusion, dear citizens, be it known that the Haddon Pub Fest organization is a pretty awesome party planner. And special props go to the Taproom for going the extra mile. I wonder if they have anything planned for Halloween...