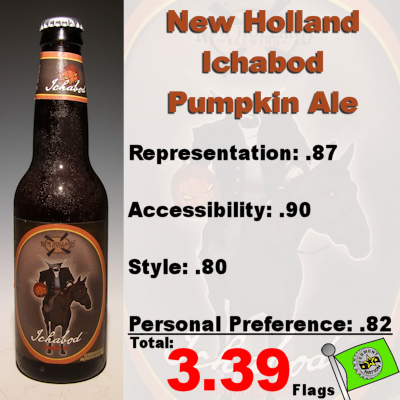 New Holland
Ichabod
Pumpkin Ale
:
I'm choosing to drink Ichabod from the bottle, since I believe that's how it can be enjoyed best. Pretty smooth and drinkable at 5.2% abv, ths seasonal offering from New Holland would look swell in a cooler full of ice with the Headless Horseman's menacing mug peering out over the cubes. Halloween party or a fall football tailgater could showcase Ichabod's fun artwork and easy-drinking flavor.
New Holland Ichabold Pumpkin Ale has a pretty light body and reminds me a lot of a pale ale eve though it pours out a hazy, orangey color, and New Holland itself describes Ichabod as an amber on the label: "Real pumpkin, cinnamon and nutmeg enrich this amber brew. Pairings: roasted poultry, root vegetables, peanut sauce, and caraway." So maybe a barbecue pit in a stadium parking lot would suit this brew nicely... chicken, sausage, some stew perhaps...
The pumpkin essence and telltale spices put New Holland Ichabod right in line with many other October seasonals. And like New Holland's brews as I have encountered them, Ichabod pumpkin ale is pretty cool but not overwhelming. It's one of the more drinkable ones out there and would be a great introductory beer for first-timers to pumpkin seasonals or into New Holland's offerings.
The bottom line is this: Ichabod smells and tastes like pumpkin but it finishes like a beer. (In the pantheon: somewhere between
Elysian
Night Owl
and
Post Road
.) Some hoppy bitterness and malty sweetness appear in the distance but much like the Headless Horseman himself, comes up just a little short.
New Holland
Ichabod
Pumpkin Ale
:
Representation: .87
Accessibility: .90
Style: .80
Personal Preference: .82
Total Score: 3.39 Flags