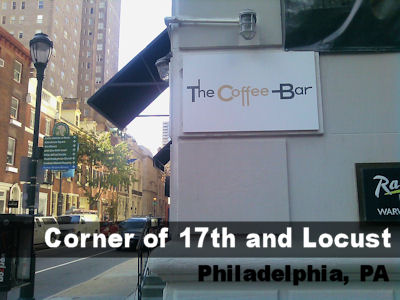 The Coffee Bar:
It was a dark and stormy night in the city of brotherly love.
The Coffee Bar
(the corner of 17th and Locust, attached to the Radisson Hotel) caught my eye a while back, but I was under the assumption that they only sold bottles, which is perfectly fine. It is in good company, because only a block or two away is
The Happy Rooster
(also a bottles only establishment). But then I started to see on their sandwich board outside their door that they were serving draught beers.
On their sign they listed having
Great Divide
Titan IPA
! Are you kidding me? Couldn't wait. But....had to wait, because they were out. Sucky. So, I had to settle for
Bell's
Double Cream Stout
and
Troegs
Pale Ale
, both on tap. Is the
Bell's
Double Cream Stout
creamy? You bet. Also smooth, dark, but not very roasty. Easy to drink, but it was a bit worrisome as it came in a smallish glass. I have not yet checked, but I suppose it is fairly robust in the % abv department.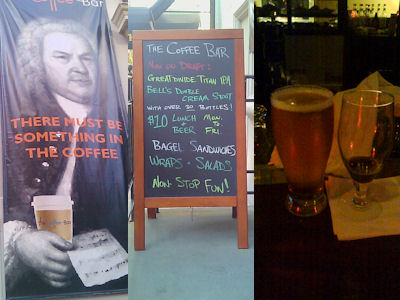 The
Troegs
Pale Ale
was fine, but expecting
Titan IPA
, it was a bit disappointing. It is smooth, mellow, not crisp like an IPA. I shouldn't have to explain to readers of
The Ferment Nation
what a pale ale is like. You get the point.
As for atmosphere,
The Coffee Bar
is interesting. It serves coffee and is attached to a nice hotel, so there were some confused elderly hotel guests meandering about as well as some European cosmopolitan types (not bad on the eyes) and your standard gaggle of underage hipsters actually having coffee. Their menu is pretty simple: anything you can fit on a pannini press. I ordered the Monte Cristo and was not disappointed. But my surprise came with my meal as they changed beers!
Smuttynose
Big "A" IPA
. Sharp, tangy with an acidic aftertaste, which may seem bad, but oh, no! Au contraire! Quite nice. Has a floral, hoppy aroma, and overall is quite a nice beer.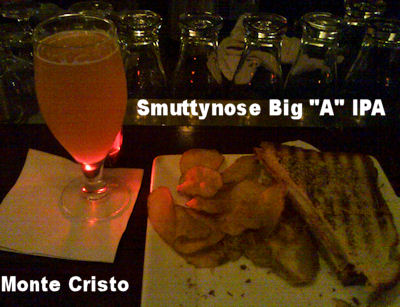 With a solid music selection, friendly service, good draught beers, and a menu of bottles to try out, this might be a good place to return to. I'm sorry, what? $10 beer + sandwich lunch special?! And a happy hour? And a block away from the PATCO station? Yes, I will be back very soon. Thank you very much
Coffee Bar
.