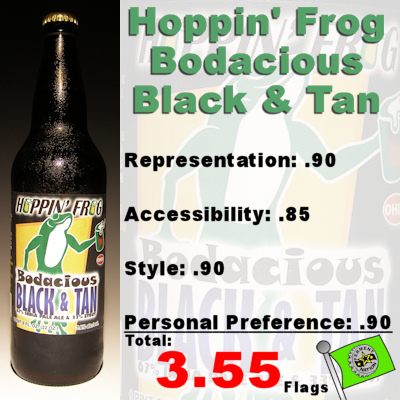 Hoppin' Frog
Bodacious Black and Tan
:
With the first whiff or two, this beer, although the percentages favor IPA @ 67% to 33% stout, smells more stout that IPA. And even though this is a 22oz. bottle weighing in at 7.6% abv, I still like to take the first sips right out of the bottle. This is quite interesting. Does not really have the floral or citrus tones you might expect from a "mostly IPA" beer. Instead, it is like a crisp tasting stout, with a slightly bitter aftertaste that lingers on the tongue.
I am already thinking of comparing this to a
Samuel Smith
beer, so let me differentiate. It does not have that lovely
Samuel Smith
uber-bitter volcanic effervescence that you need to watch closely as you pour the beer into a glass. This beer is dark with a nice toasted almond colored head, that lingers for a while but then dissapates in the glass. But is has that really smooth, satisfying dark beer flavor that I love from
Samuel Smith
beers. I hope
Hoppin' Frog
realizes how much of a compliment this is coming from me.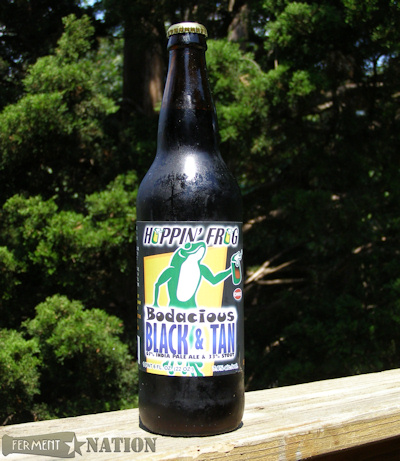 You do not really taste the 7.6% abv, which is nice, and I am still fascinated by the really nice bitter aftertase that lingers. With my first burp, too, there is no hoppy/floral/citrus taste you might expect from an IPA or even a partial IPA. As a note to readers: anyone expecting this to taste like an IPA should be forewarned that it does not. This is a really good tasting beer (Personal Preference and Style points will be high for sure), so this beer does well by me, but hop-heads might want to pass this one up.
I am not quite sure how I will score Representation, because it is a black and tan. So many bars will serve
Guinness
-based
Black and Tan
beers (I prefer
Bass
to
Harp
, even though there are some Irish die-hards who would consider this treasonous), and you have
Yuengling's
bottled Black and Tan, which holds some fond memories for me. And you have the
Black and Tan
at
Stewart's Brewpub
(
Highlander Stout
with their
Governor's Golden Ale
[I think]). But I will stick with comparing to other bottled beers, so I think Representation will also be high. I cannot stress enough that this is quite a nice beer. I will definitely buy and drink this again.
Hoppin' Frog
Bodacious Black and Tan
:
Representation: .90
Accessibility: .85
Style: .90
Personal Preference: .90
Total: 3.55 Flags