Victory
Summer Love
is a summer ale that brings out the refreshing nature of one of my other favorite summer styles. What style is that, El Presidente? Read on...
The very beginning of the sip begins like a pale ale but the malt soon appears in the middle of the draught as malts tend to do. Rich lagers and doppelbocks tend to reveal their sweetness in the middle of the mouthful, allowing the drinker to enjoy the body of the brew... Here,
Summer Love
reveals its secret weapon employed in the pursuit of a clean, refreshing brew:
pilsner malt
.
Some of my favorite summertime brews are @VictoryBeer
Prima Pils
and @Troegsbeer
Sunshine Pils
. The dryness helps pilsners to finish cleanly, while the Saaz hops provide a unique aftertaste.
Summer Love
is an interesting hybrid that utilizes pilsner malt for a light body while its whole flower hops brighten the brew with a citrusy tang.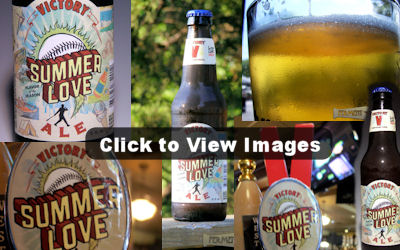 There's another Philly area brewery that makes a pale ale with pilsner malt... @YardsBrew makes
Philadelphia Pale Ale
with pilsner malts as well, and it is a go-to beer for session drinking and especially warm weather outdoor events like barbecues and tailgaters. Yards
Philly P
ale seems to closely align itself with the British brewing tradition of smoothness, balance, and subtlety. The hoppy character is a little more lemony than grapefruity... Victory's Summer Love seems to highlight the brewers' German training. Yes the brew is pale and drinkable but some slightly bolder spicing seems to peek through and crave the company of some home-grilled hamburgers.
In its first season on the market, Victory Summer Love has made its way onto my summer bring-to-the-party list. Along with the aforementioned Yards Philly Pale, Flying Fish's Farmhouse Summer, Victory's own Prima Pils and Troegs Sunshine Pils, Victory Summer Love really captures the essence of an accessible summer seasonal. Even the artwork on the label features baseball, camping, fishing, fireworks, ice cream and bathing beauties. If you haven't tried Summer Love, give it a shot before it goes into hibernation. The bright, floral hops and the pilsner malt will provide a crisp, refreshing drinking experience.
Victory Summer Love:
Representation: 1.0
Accessibility: 1.0
Style: .95
Personal Preference: .99
Total Score: 3.94 Flags