In preparation for #IPADay this Thursday, August 4th, we at the Ferment Nation are re-visiting some previous IPA posts for your reading pleasure. How will YOU celebrate #IPADay? You will be celebrating, right? This is one that I brought home from the #BBC10 "Night of Many Bottles." Enjoy!




Wednesday, January 5, 2011
Haverhill "Leatherlips" IPA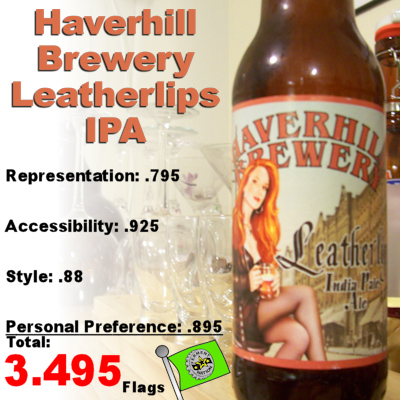 Haverhill "Leatherlips" IPA:
Leatherlips IPA from Haverhill Brewery in Haverhill, MA was a score from the Beer Bloggers Conference in Boulder, CO. Dan (on Tap) handed me a tub of ice stocked with unopened brews from our BYOB event and said, "Take this!" So I did. A bunch of bloggers hung out awhile longer and sampled some more brews after the event "ended" at 11:00 pm. But we couldn't get to everything, could we? So here it is back in South Jersey, just waiting to be reviewed...
Leatherlips is potently dry and has a pleasant hoppy bitterness. It's only listed at 50 i.b.u.s, which is a little less than I was expecting. I figured the measurement would be higher, considering the nice grapefruity aftertaste. Centennial and Chinook hops are listed as the main culprits in the bitterness department, which makes sense considering the brew's passing resemblance to Founders Centennial IPA.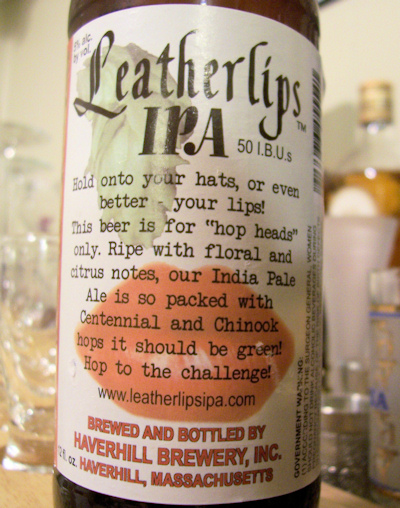 What I didn't know about Leatherlips was that it would be the perfect accompaniment to my meal. My wonderful lettuce wraps (thanks, Honey) were prepared with brown sugar, soy sauce, rice vinegar, mushrooms, chicken, and onions. The earthy, tangy, caramelized sweetness of the food needed a dry, citrusy beer to cut through the richness and cleanse the palate. Likewise, the brown sugar sweetness attacked the beer's bitter aftertaste in a really pleasant battle of the buds.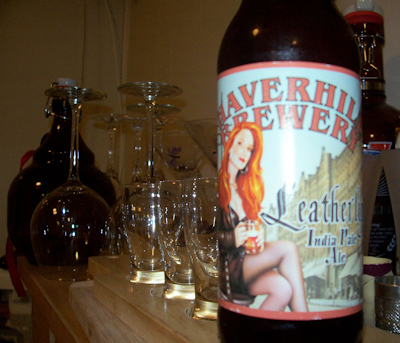 I have to say that as an IPA, Leatherlips gets the job done but doesn't exactly raise the bar. Though at 5% abv, it's worth trying a few to see how it goes. This is a session beer with quite a lot of flavor; super-fresh from the tap in Haverhill, MA may be the way to taste this one. I just may do that someday. Keep in mind, it's perfect for cutting through a sweet and tangy meal. It would go great with some honey-bbq ribs or chicken, too, so look for it to come up big at a tailgater or barbecue.
Haverhill "Leatherlips" IPA:
Personal Preference: .895