Whether you love #IPADay, hate it, are tired of it, or simply just don't care, many folks are celebrating the style today. So here's an #IPA review from awhile back, highlighting one of my favorites:
Thursday, September 24, 2009
Green Flash West Coast IPA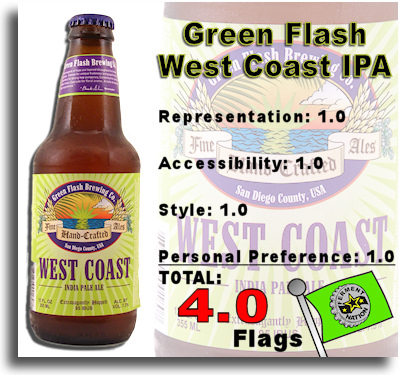 Green Flash
West Coast IPA (draft)
:
Superior IPA. Chilled-out enough to recommend to any lover of good beers but bold enough to stash away for the occasional hop-fits that plague the hop-head from time to time. Stable malty skeleton with citrusy hops fleshed out on top. Grapefruity yet not overpowering. Light to medium in body with a bitterness up front. The bitterness disappears for the swallow and then magically reappears at the finish. Mystically good.
IPA lovers, drop what you're doing and grab one of these. Sometimes you need a pale; sometimes you need a double or an imperial; sometimes you need something just right. I'd put this in the "go-to" category right along with
Victory Hop Devil or Dogfish Head 90 Minute.
Also be sure to check out
Green Flash
Hop Head Red
and
Le Freak
for daring drinkability.
Green Flash West Coast IPA is also one of a rare breed of brews that has a three-pronged attack: bottle, glass, or draft. This is a premier IPA, boasting 95 IBUs and cruising in at 7.3% abv.
As we enter Football Season, here's some Presidential advice: Definitely bring this one with you to a tailgater but guard it closely. You can protect it by saying, "You wouldn't like that... it's too bitter" (and you would be telling the God's honest truth), or you can be a hero to that random hop-head who eyes your brew knowingly. Use a West Coast IPA to barter for an awesome bratwurst sandwich or something but stand your ground on the value of this brew. Rare exception: that guy who has nothing to offer but stands in awe of your superior beer selection. You may bestow a Green Flash West Coast IPA upon this fellow traveler if you see in his eyes the determination to outdo you next time you meet. A truly grateful citizen of the FermentNation will take on this quest and deliver the goods.
Why not let the Brewmaster say it for himself: "A menagerie of hops are layered throughout the brewing process. Simcoe for unique fruitiness and grapefruit zest, Columbus for strong hop pungency, Centennial for pine and citrus notes, Cascade for floral aroma. A multi-dimensional hop experience." --Chuck Silva, Brewmaster.
Green Flash West Coast IPA:
Representation: 1.0
Accessibility: 1.0
Style: 1.0
Personal Preference: 1.0
Total Score: 4.0 Flags