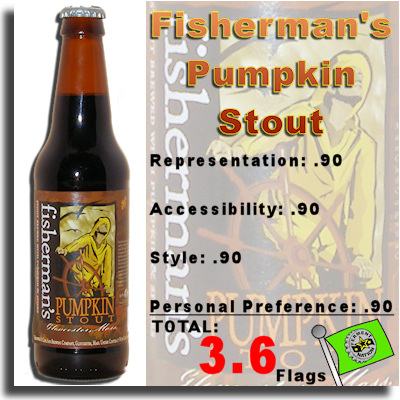 Fisherman's
Pumpkin Stout
:
Not bad at all. Honestly, this is a pretty good stout. It's medium-bodied with a clean, dry finish -- just a tad bitter with a tactful dusting of pumpkin and spice brewed right in. The pumpkin flavor blends into the stout the way some stouts are subtly spiced with rasberries or chocolate or oatmeal or coffee. Some extreme beers feature the flavor and use the stout as a medium; Fisherman's takes a different path here and features the stout, using pumpkin to accent the season and show the versatility of our orange gourd friend.
Pumpkin is evident in the aroma and in the swallow, particularly right before the bitterness wends its way to the back of the tongue. Cloves and cinnamon and most definitely pumpkin accent the toasty dryness of Fisherman's Stout. Again, the pumpkin and spice are pretty subtle so this brew could appeal to stout drinkers as well as pumkin heads. This brew, however, would not go into the lineup of pumpkin breers discussed during the Ultimate Pumpkin Showdown, since I pretty much classify it as a stout (as opposed to a seasonal Pumpkin offering). Fisherman's also couldn't be considered a to be in the same league as the Selin's Grove 1/2 Pumpkin and 1/2 Oatmeal Stout combo I had in October. Actually, not many beverages in the whole wide world could hang with that heavenly concoction! At any rate, Fisherman's Pumpkin Stout is well done and worth a try. Really drinkable stout without being boring.
Fisherman's
Pumpkin Stout
:
Representation: .90
Accessibility: .90
Style: .90
Personal Preference: .90
Total Score: 3.6 Flags
Related Reviews:
Read
ALL OUR PUMPKIN REVIEWS
Ultimate Pumpkin Roundup!
Ferment Nation Beer Blog