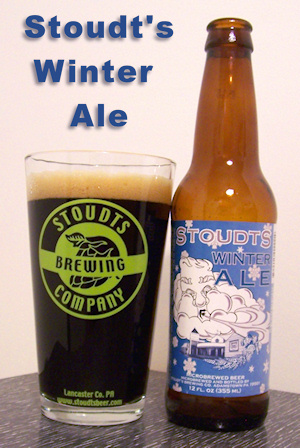 Stoudt's Winter Ale:
Another nice warming ale. Good on a snowy evening (such as this one) when you're ready for some hearty elegance in the comfort of your own abode. A real beer that is brewed with care. Some delicate subtleties and complex flavors born of a bold and bitter soul, this beer is a winter winner.
Really drinkable (though watch out forthe dry and bitter finish). Light to medium body. Geez, a really dry finish. Pale like an ale and hearty like a porter. Coffee and chocolate round out the bitterness, though hops are clearly present as well.
Stoudt's fans: Go for it! Fans of Anchor and Smuttynose: Go for it! Just so you know, these winter ales do not resemble Sam Adams or Pete's Wicked Winter selections. Stoudt's Winter Ale is much bolder and timeless than the flashy uber-nutmeggy style lagers. It seems to have been lifted from an old recipe book; Its complexity has a purity that can be described as "old school". I like this beer alot.
Stoudt's Winter Ale:
Representation: .9
Accessibility: .875
Style: .9
Personal Preference: .9
Total Score: 3.575 Flags