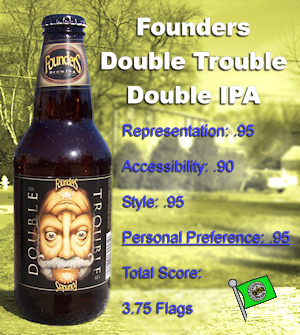 Founders Double Trouble Double IPA:
Another wonderful offering from Founders. This Double IPA is really hoppy and bitter and goodness gracious dry! Even though there is a slight floral sweetness to this brew because of the serious hoppage, the finish is outrageously dry like a wine finish. Smooth to the tongue and easy to swallow, Double Trouble has a bigger body than one might expect from a dry, bitter IPA -- but its viscous consistency coats the glass as well as the tastebuds.
Totally drinkable for hop-heads but not for pretenders. At 9.4% abv, choose carefully. Maybe a bit too much to be a "session" beer but then again, a "session" only needs be two beers with this formidable beverage. I actually took about 1/3 of the beer straight from the bottle and it went just fine. But oopen this baby up in a glass big enough to put your nose in. Unlock a lot of complexity by getting all the senses involved.
OK, so what can I compare it to? You should try Founders Double Trouble if you like any of the following beers: Troegs Nugget Nectar (Imperial Amber), Weyerbacher Double Simcoe, Victory Hop Devil or Hop Wallop, Great Divide Titan IPA or Hercules Double IPA. I'm sure there are more comparisons to be made, but suffice it to say that Founders DT holds its own with all of the above. Not extreme, but bold and confident in its presentation. I'll be back for more.
Founders Double Trouble Double IPA:
Representation: .95

Accessibility: .90
Style: .95
Personal Preference: .95
Total Score: 3.75 Flags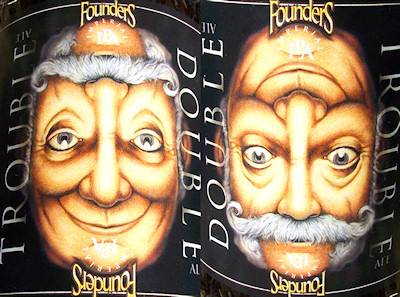 Related Reviews:
Founders Breakfast Stout
Founders Dirty Bastard Scotch Ale
Founders Red's Rye


Ferment Nation Beer Blog