Well Hop of the mornin' to ya! Just checking in, dear citizens, to make sure that you've enjoyed the National Holiday responsibly and with much vigor. I myself celebrated in installments: St. Patty's Day proper took me into NE Philly area to check out Kickin' Chickins. They are good friends of the Nation and deserve some recognition: Original (very) hard rock with an old school metal feel. If you like "Poultry With a Side of Metal" go see these guys and support live music.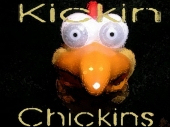 But the tragedy of the night occurred when your faithful pub servant

El Presidente

ordered ... a Guinness, of course! I mean what else does an Irish guy drink? And on St. Patty's Day? A no-brainer. But the establishment in question was out of Guinness at 9:30 on St. Patty's Day. Besides screwing the Chickins out of their rightful take of the cover charge, there was not a drop of Guinness to be drunk. Not cool. My reaction was very calm and dignified, however.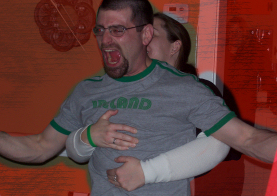 So I needed to reclaim the sanctity of St. Patrick's Day and celebrate at a proper establishment: Slater's Pub back in the good old N of J. The snack and craiq flowed freely and the energy of the party slowly began to build as patrons arrived and the brew tastings moved forward.
The celebratory beverages included (but were not limited to):
Guinness Extra Stout in a bottle. A 4.0 favorite and perhaps the classic beer of all time.

Harp Irish Lager. Nice stuff, and appropriately decorated with festive labels!




Maudite by Unibroue. I didn't partake on this occasion but it is a winner.




Moylan's Kilt-Lifter Scotch Style Wee-Heavy. Kinda tart and light for a wee heavy. Pretty good but not my fave.




Moylan's Dry Irish Stout. I'm not sure if I had this or not. Probably not, though.




Flying Fish Exit 4 American Trippel. Totally badass. Blends candied sweetness with hoppy bitterness. Expect a full review soon.



Some awesome hand-crafted brews made appearances at Slater's Pub as well:
A growler of Union Barrelworks's Wobbly Bob Doppelbock. Shoutout to Sec'y of Zymurgy Chubby for supplying this spectacular beverage. Smooth and drinkable but complex and savory. Just excellent!



Buddy Love's Irish Red Part II. Really nice rendition. Maybe better than last year's. A hint of tartness gives it a little bite but it's a session beer to be sure.



Another handcrafted wonder was Councilman Timmay's homemade Irish Cream. The party really popped when the drinkers of the world united with glasses raised in remembrance of that guy in Ireland who did the snake thing.

Thanks again to the staff of Slater's Pub (that's you, Sis) for providing great times as always. Special props for producing and awesome Patty Pong tournament. Your faithful servants El Presidente and his teammate the Secretary of Zymurgy managed to stage a pretty outrageous comeback in the final game to send that already epic match into overtime... But alas, we were defeated by Big Poppa and the rookie Mary. Congratulations, you guys.

So until the next event (I think I smell Big Monday coming up), keep checking the reviews for new and exciting beverages to enjoy. Also check out Vice Presidente's review coming soon. Keep in touch, good citizens, and a belated Happy St. Patrick's Day to one and all. Grog bless you and Grog bless America.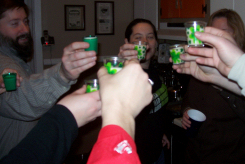 (
Listen to the October 08 Podcast featuring Kickin Chickins!
)