Philly Craft Beer Fest 2009:
Well, my good citizens... another successful diplomatic mission to the Philadelphia Navy Yard!
The
Philly Craft Beer Fest
was as enjoyable this year as it was last year. Despite the absence of a few regional heavy hitters (like Troegs, Dogfish, Yards, Weyerbacher, Victory, and a few others), the vendors brought their A game and some excellent offerings were put forth. From shuttle to shuttle, the event (along with its staff and its participants) was a safe, fun, and high class function. Much like last year, the details of each and every beer get fuzzier and fuzzier. Looking back into my notebook, the handwriting fails pretty significantly at times. If some stuff is spelled incorrectly, please forgive me. Remember that a true in-depth analysis of each beer is impossible due to the sheer volume of samples. With that in mind, away we go:

River Horse
:
*
Belgian Double Wit
. Smooth, Belgiany, citrus, creamy, clean with an American signature.
*
Honey Weizen
. Nice darker wheat beer; earthy honey flavor, not too sweet.
Manayunk Brewing Co:
*
Tripel Lindy
. Clean tripel; citrus zest evident; Think: "Belgian Light".
Blue Point:
*
Hoptical Illusion
. Session hoppy zinger; appeals to just about everyone!
*
Rasta Rye
. Smooth and dry, easy drinking.
*(Wanted some Old Howling Bastard, but no dice.)

Gritty McDuff's:
*
21 IPA
. Nice; not too hoppy; more Ale than India Pale but really nice fun finish. Ireally love the pub in Portland, Maine. There are also locations in Freeport and Lewiston/Auburn.
Lancaster:
*
Shoo-Fly Porter
. Really smooth; dry and toasty; medium body really Drinkable!
*
Hop Hog
. Oh boy. Surprisingly strong. Clean flavor; dry and groovy!
Boaks:
*
2 Blind Monks
. Belgian double. Medium body; honeyish, smooth, easy drinker
*
Monster Mash
. Imperial Stout 100 ibu, 10% abv. Woah. Rich, malty, chocolatey, very flavorful but not extreme. More accessible than you'd think.

Hoppin' Frog:
*
Outta Kilter
. Wee-Heavy style. A little light for a Scotch style. Light malty color almost a Belgian double feel. Quite nice.
Bruery:
*
Saison Rue
. Ooh, a spicy little thing! Red is good. Missed some other of their entries but I will try to find them again.
Duck-Rabbit:
*
Porter
. 5.7%. Smooth, chocolatey, drinky, really dry.

Saint Somewhere:
*
Lectio Divina
. Belgian Amber. Rich, rich, rich. Begian candi sugar really shines through.
*
Saison Athene
. Rosemary, chamomile, black pepper. Soooo interesting. Wild yeast gives it a phantasmal finish that lingers but not really on the tongue. Black pepper, huh? You bet. It's awesome. Maybe my fave of the day.
Anchor:
*
Porter
. Possibly the best porter around. So damn good, especially on tap.
Ithaca:
*
Oaked Nut Brown Ale
. Gives new life to the Nut Brown style. Funky but nice. The oak isn't too much. No Caskazilla : (

Reaper Ale:
*
Deathly Pale Ale
. Light; pretty refreshing.
*
Redemption Red
. Nice body, lots of personality. Ah, Redemption.
Bavarian Barbarian:
*
IPA
. A bit bitey; Light to medium body; Dry and pungent; not typical but good.
*
Winter Warmer
. Nice and spicy without overpowering. Fragrant and smooth.
Michelob:
*
Hop Hand
. Michelob is a guilty pleasure of mine. This beer is not so stylish but very drinkable. Could be a gateway beer to introduce hops to those living in the dark.
*
Shock Top
. You know.

Appalachian Brewing Co.:
*
Hoppy Trails IPA
. Light and crisp; light body; nice dryness and hop flavor.
*
Trail Blaze Organic Brown Ale
. PA's First Certified Organic beer. Really nice American brew. You can taste the freshness of the ingredients. Not spectacular in style but an awesome session beer.
Rock Art Brewery:
*
Extreme Hell's Peak
. Lager with cujones; Double lager with nice powerful hops.
Boulder:
*
Mojo Risin' Double IPA
. 11% ? Are you kidding? Holy crap. I liked this one.
Remember, dear citizens, that there were so many other breweries present and so many beers yet to try. Can I get to them all? I have sworn to uphold my duties to the best of my abilties, so I may die trying.
High Presidential marks go to the
Bruery, Boaks, Saint Somewhere, and Hoppin' Frog
. Best in show, in my humble opinion, is the
Saint Somewhere
Saison Athene
. It is just so interesting and unique that I can't get it out of my head. Gotta find this one in stores if I can!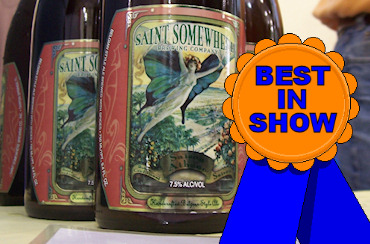 Thanks again to all the staff and guests of the
Philly Craft Beer Fest 2009
who made the event so easy to enjoy. Special shoutouts go to my loyal Cabinet for their constant support and encouragement (Chubby, Toast, Scoots, and Moles). Looking forward to a brand new baby citizen is Lynn. Way to go, Scoots! Hi to my new friends Heidi and Kathleen. And for the second year in a row, I wound down my visit with one of the Nation's most patriotic citizens: What's up Carl!
Finally, thanks to Vice Presidente who spent the Festival at an undisclosed location while I performed my duties in the public eye. Without him, my efforts would disappear into the port-a-potty.
Please leave your comments. We love feedback. And check out last year's Fest review to refresh your memory.
Grog bless you and Grog bless America.