Greetings, Citizens! The Vice President here, wanting to tell you about a brewpub nestled in an unassuming K-Mart strip mall in Delaware. One of the most under-rated and over-looked brewpubs on the East Coast (my opinion),
Stewart's Brewing Co
. offers a fine array of house and seasonal beers, and I had the opportunity to visit them this past weekend.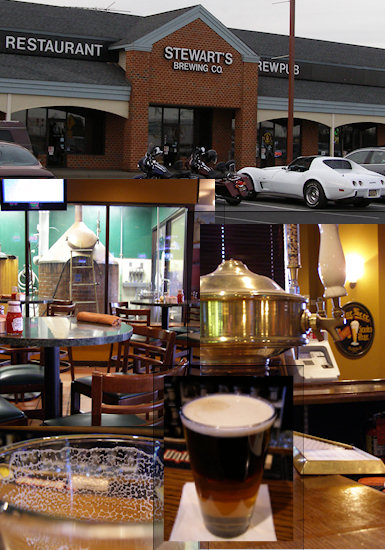 I began my visit with a seasonal beer: their American Brown Ale. Quite tasty and quite brown, indeed, almost black actually. I really had to hold it up to the light to see its beautiful color shine through. That is until I tasted it. Smooth, solid, what I would call a great drinking-all-night beer. I feel that microbrews sometimes feel the need to over-hop or over-malt their beers to gain attention. This beer kept me satisfied just being who it was. This beer had self-esteem and wasn't afraid to show it.
I also couldn't resist their house black-and-tan: a Highlander Stout floating serenely on top of their Governor's Golden Ale. The Highlander Stout is an incredibly rich and voluptuous nitrogen infused gem of a beer. You don't need to read the menu to know you're tasting the subtle and not-so-subtle flavors of chocolate and oatmeal in this fine, fine stout. I was not too proud to stick my finger in this one to taste the creamy head before diving in. The beer finished on bottom with the Governor's Golden Ale, a smooth house brew that complemented the Stout perfectly.
I was truly disappointed I came too late to try their "Hoppy Ending" and too early to have their "Stumblin' Monk" Belgian style Trippel (You gotta try this one!). In order to have my visit count as an official Ferment National visit, I brought back a growler (Stewey) of the
Belgian Sunset Grand Cru
for the President to taste. Be on the look-out for that review, and keep your eyes on this site for new features coming soon! --The VP