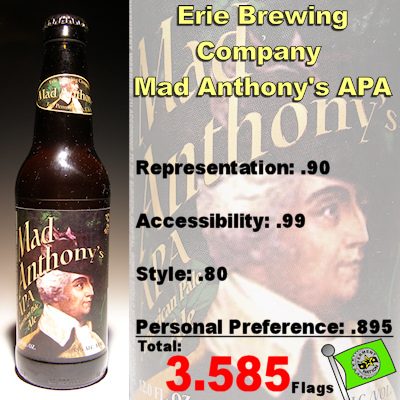 Erie Brewing Company
Mad Anthony's APA
American Pale Ale:
American Pale Ales seem to have an interesting color... just a shade darker than a traditional Pale Ale (mostly fashioned in the British tradition) with a slightly sharper hop profile than an English style pale ale.
The flavor is an interesting "melting pot" of pale ale, pilsner, and IPA. Mad Anthony's APA is a pleasantly refreshing version of this patriotic style. Nothing crazy going on here, but I detect a slight haze, perhaps a wheaty influence. There's a little hoppy bite right in the middle of the draught, and I seem to sense a bit of German influence in the brewing.
Mad Anthony's APA is a prime candidate to share with neighbors and friends at a Fourth of July barbecue. Pour some over the bratwurst and enjoy the rest straight out of the bottle or perhaps in a pilsner glass. Feel free to enjoy a few: this is a nice session brew at 5.5% abv. Mad Anthony's APA would be a fine brew drunk ice cold on a hot day -- and accessible enough to pass along to a stranger who is simply curious about the intriguing name of the man whose bust adorns the label ("Mad" Anthony Wayne was a widely decorated and highly respected military officer in the American Revolution. He was apparently quite the spark plug, earning his nickname "Mad" Anthony. His legacy is quite profound, having left his mark on history by way of a billion towns named after him. Rock a Wiki if you don't believe me).
Actually, I'm quite looking forward to this summer after a cold, wet East Coast winter. If you remember last Independence Day, yours truly celebrated with Troegs Sunshine Pils and another American Pale Ale, Stoudts APA. Erie Brewing Company has offered a fun and drinkable session brew in Mad Anthony's APA. Not terribly stylish, but certainly user friendly.

Erie Brewing Company Mad Anthony's APA American Pale Ale:
Representation: .90
Accessibility: .99
Style: .80
Personal Preference: .895
Total Score: 3.585 Flags