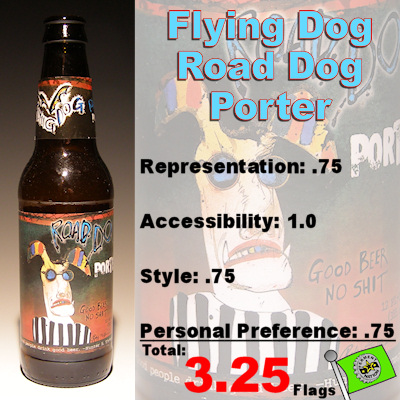 Flying Dog
Road Dog
Porter:
Another sneaky offering from
Flying Dog
. The
Road Dog
porter has a surprising abv at 6%. That's not a very strong beer but it could really do some damage if you fall victim to the easy-drinking
Road Dog
. The accessibility of
Road Dog
is its best attribute by far. Not a bad porter to start with if you're just an adventurer who isn't used to dark beers. But the veterans know better.
El Presidente is a staunch supporter of free speech -- and while we at the Ferment Nation choose to keep the language mostly family friendly, we support Flying Dog's right to plaster a "naughty" word all over the label. The only problem I have with it is that the bold claims of being dark, rich, malty, and the best I'll ever try go largely unsupported. I mean, they've made a good attempt and a decent porter but not hardly in the same category as the other porters I would choose over Road Dog (like Yards George Washington, Smuttynose, Anchor, Sierra, Sinebrychoff... just to name a few).
The flavor and the body are both on the light side, which as previously noted, makes Road Dog quite accessible and drinkable. There's a subtle hint of smoke or coffee or something, a gentle tug on the tastebuds, but not very stylish. Flying Dog does have some successes but this porter leaves me a bit underwhelmed.

Flying Dog Road Dog Porter:
Representation: .75
Accessibility: 1.0
Style: .75
Personal Preference: .75
Total Score: 3.25 Flags