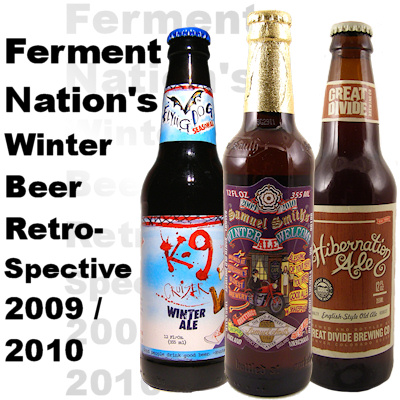 The Ferment Nation
suffered through the worst Winter in history, and perhaps that is why we waited so long for our second Winter Beer Round-Up, which since it's Spring already, is no longer a round-up, but rather a retrospective. So while you're sipping on your hoppy beers in time for Easter, you can reminisce about these great Winter beers.
Flying Dog
K-9 Cruiser
Winter Ale:
This reddish-brown winter warmer has a pretty apparent malt flavor, but is just a bit light on the body. It isn't weak, however, since the hoppy bitterness creates an interesting finish. The aftertaste is bitter and lingers quite awhile. [
Read the full review
]
Samuel Smith's
Winter Welcome Ale
:

Okay, so now I am on the hunt for the perfect "winter warmer."
Samuel Smith's
almost always presents a near-perfect product; Just as nearly perfect is their representation of the style at hand. My personal opinion of
Winter Welcome
is that it falls just a smidge short. [
Read the full review
]
Great Divide
Hibernation Ale
:

This "English-Style Old Ale" is another interesting take on the "winter warmer." The flavor is rich and woody and malty. The aroma contains a hint of caramel sweetness but the taste isn't really sweet at all. [
Read the full review
]
--From the Office of the Vice President