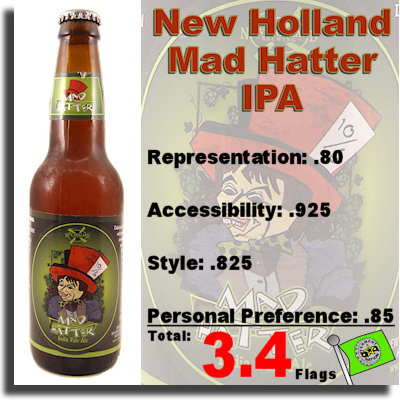 New Holland
Mad Hatter
IPA:
This is a really smooth IPA from New Holland Brewing Co. in Holland, MI. The aroma tells a pretty clear tale of the flavors to come, thought the citrusy hop flavor is a bit stronger than the bouquet would let on. Mostly, though, it's a fairly chilled out IPA with a smooth flavor, lightish body, and a drier malty base ... almost pilsner-ish but not quite. Definitely pale. In fact, the Mad Hatter is so pale that one would almost classify it as such. The finish is so very crisp and dry that only at the very end does the mildly grapefruity hop essence kick in.
If you love Pale Ales or lighter-side IPAs, then definitely check out Mad Hatter. It's extremely drinkable, even right out of the bottle. In fact, you may squeeze out a little extra hoppy bite if you drink it that way. Definitely recommended for ball games or barbecues. Newbies go ahead and give it a try. Highly accessible.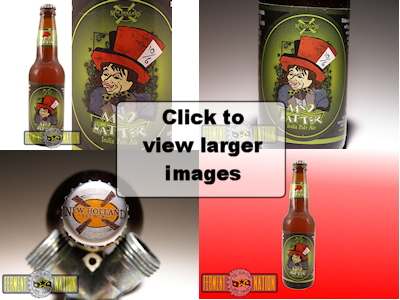 As far as being an IPA, there are so many dynamite ones out there, I have to be pretty picky with regards to representation and style. Mad Hatter reminds me a lot of Hoptical Illusion in this way. It's a little hoppier than its Blue Point counterpart but still perhaps a bit to "safe" for my tastes. Don't get me wrong. I could settle in with a bunch of these and take my appreciation to the next level (exactly how deep is that rabbit hole, anyway?) and have a lovely little "session" with this brew. But its light body and crisp flavor give me that summer feeling and not necessarily the "Wow, this IPA really kicks my butt!" feeling. Caught between Pale Ale and IPA, Mad Hatter doesn't disappoint, but doesn't knock any socks off either.
New Holland Mad Hatter IPA:
Representation: .80
Accessibility: .925
Style: .825
Personal Preference: .85
Total Score: 3.4 Flags