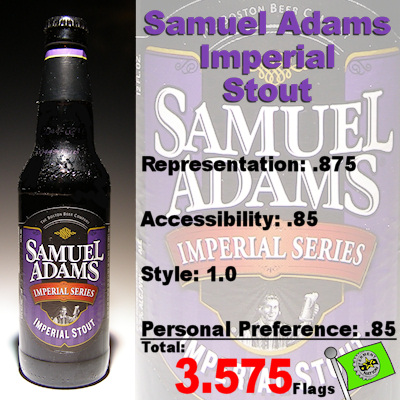 Samuel Adams
Imperial Stout
:
This imperial stout is dark all the way through. Extreme bitterness up front presents the traditional dark flavors of chocolate and coffee. The bitterness gives way for just a moment to let in a little sweetness from deep within. Then, the aftertaste hits with lasting results. What is that herbal, tongue-numbing bittersweet flavor? Aha! Anise. I may not have come up with that on my own but Jim Koch was kind enough to sum up the brew on the rear label. Thanks, Mr. Koch, for putting words to my flavor experience.
The aftertaste lingers a good long while, perhaps partly due to the intensity of the brew, but maybe the viscosity has something to do with that -- Sam Adams Imperial Stout coats the mouth like Sambuca in a way. So let that be the Presidential Recommendation for today: Sambuca drinkers, give this powerful stout a try.
Sam Adams Imperial Stout fits right in the mix of imperial stouts abv-wise, clocking in at 9.2%. Not nearly a session beer, this imperial stout is particularly boozy in flavor with a pungent bite that so far is unique to me. Very stylish and extremely bold, this offering is sure to receive a perfect Style score. But here's the thing...
I love Sam Adams; I love bold brews; I love imperial stouts... but this isn't my favorite among them. I have to be honest here, it's not suiting my taste buds. The craftsmanship is ever-present, but I'm not in love. Goes to show that there's some crazy voodoo involved in brewing. Not many breweries could even take a chance like Sam Adams by creating an entire Imperial Series. And even fewer can throw down a unique imperial stout. This particular version of imperial stout does challenge the norms of the style but it does not redefine them in my opinion (Key words: my opinion. Please comment!!).
Samuel Adams
Imperial Stout
:
Representation: .875
Accessibility: .85
Style: 1.0
Personal Preference: .85
Total Score: 3.575 Flags