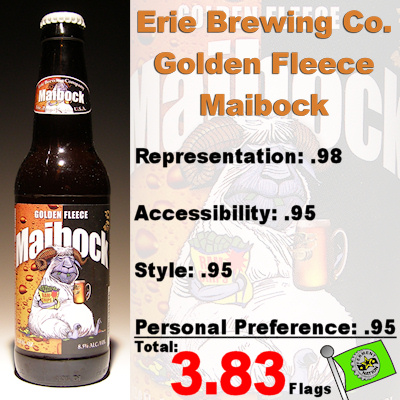 Erie Brewing Company Golden Fleece Maibock:
It's hard to resist a good maibock. The color alone is sort of magical -- golden like an elixir that warms your soul and allows you to travel through space and time. And the richness of flavor and body are no accident -- maibock was invented to magically transport you across reality more thoroughly with each sip so by the time you get there, your arrival has less and less to do with your own decision-making process. Just give yourself over to the potion and begin your journey. What on earth am I talking about?
Speaking of journeys, the search for the Golden Fleece was no picnic, if I remember my history lessons. Never fear, intrepid Argonauts, Erie brings the Golden Fleece to you. It basically has all the lovely qualities that a maibock should have (see the discussion of rich flavor and body above). Golden Fleece may be the heir apparent to Stoudts Maibock, which is brewed these days but has been retired from 6-pack bottling according to sources. The Erie offering is not as exactly ethereal as the Stoudts version, but it would hold up fairly well in a head-to-head. It may be more accessible than Stoudts, not quite as rich. A pinch less stylish, but that's a fair trade-off when trying to get a novice to try some "fancy" beers.
So far, some Spring seasonals have leaned from Equinox into Solstice and as lighter fare could double as Summer beers. Golden Fleece seemes to be more distinctly a vernal selection. At 8.5% abv, we are reminded that golden sweetness in the sun masks a rich malty, boozy, warming special sump'n for those Spring nights that still get a bit chilly. So grab a hoodie and a chalice and sit by the fire pit. Also, be ready to wake up somewhere else if you have too many. Did I mention that Golden Fleece is 8.5%?

Erie Brewing Company Golden Fleece Maibock:
Total Score: 3.83 Flags