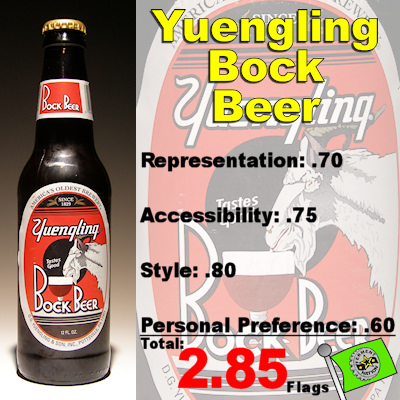 Yuengling
Bock Beer
:
America's Oldest Brewery makes a supremely drinkable Lager and Porter. This
Bock Beer
is a nice attempt but doesn't quite hit the mark. It looks great -- dark caramel color, nice bubbles -- the flavor is a little malty with a mildly spicy hop profile. On the right track, but something isn't quite right. There's a bit of a funk to this beer where the smoothness ought to be. Perhaps I'm just comparing this brew to some of the time-tested European doppelbocks like
Paulaner
Salvator
,
Ayinger
Celebrator
, or
Spaten
Optimator
(a tough crowd to stand out in). Perhaps I'm holding this bock to the standards of
Samuel Adams
'
Traditional Bock
from the
Longshot Series
or their
Double Bock
from the
Imperial Series
.
Expectations play a big part in your enjoyment of a brew. Even though I tried to experience Yuengling Bock Beer with an open mind with regards to its particular qualities, there are certain things I've come to expect from bock beer as a style. I know there's a hoppy influence to counter-balance the malt but honestly I was expecting something smoother.
Yuengling Bock Beer is interesting and therefore worth a try. Overall, though, I was a bit underwhelmed. Compared to other yummy bocks and compared to Yuengling's consistently accessible stable of session beers, the Bock Beer leaves a little something to be desired.
Representation: .70
Accessibility: .75
Style: .80
Personal Preference: .60
Total Score: 2.85 Flags