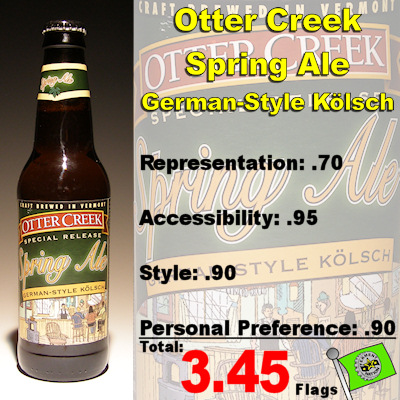 Otter Creek
Spring Ale
German-Style Kolsch:
Admittedly I'm not an expert on kolsch. I tend to pass over the lighter style in favor of funkier, spicier seasonals around this time of year. I seem to remember kolsch being a little bit pungent and very dry, almost like Pilsner's weird, emo, indie-rock younger sibling.
Otter Creek Brewing Company
from Middlebury, VT gives a little face-lift to the German-style brew.
Otter Creek Spring Ale pours a really nice bright golden color. The body is mostly light but gains a little heft from the malted wheat. Light and refreshing in flavor, this kolsch sits somewhere between a saison and a light pilsner. This would be another great back deck beer to relax with. In place of a glass of chilled white wine, perhaps? Use it to wash down some fish or poultry appetizers and you won't be disappointed.
Expect some see-saw scoring on this beer for a few reasons: I don't think this is the best Representation of a kolsch -- probably have to be a bit more traditional to ace that category. Accessibility is way good. Style: tough one. Yes, it breaks barriers in the kolsch world but it isn't so mind-altering as to redefine the style. And Preference: Gotta say, I really like it. Sassy yet subtle, I just might go back for more. Oh, and mysterious! Can't find the abv% anywhere.
Otter Creek
Spring Ale
German-Style Kolsch:
Representation: .70
Accessibility: .95
Style: .90
Personal Preference: .90
Total Score: 3.45 Flags