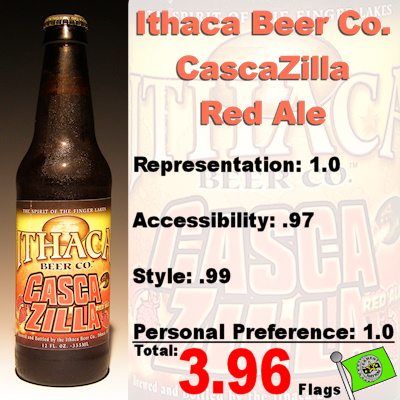 It's actually fine right out of the bottle and reminds me a little bit like
Hop Devil
from
Victory
. Pour it into a glass, thought, and the aromas and flavors open up a bit. Malt and hops combine nicely and there is even a teensy bit of vanilla-oaky mellowness to this brew. Tying to put it together with brews you may know, picture
Founders
Red's Rye
plus
Victory
Yakima Twilight
and a touch of
Hop Devil
.
Red Ales are hard to pin down. Many are boring, but done right, the palate rejoices. Some other nice Red Ales include
Seamus Irish Red
from
Sly Fox
(well-balanced and drinkable) and
Oskar Blues
'
Gordon
(off the hizzy and will beat you about the face and head if you're not paying attention). The Great White Buffalo of Red Ales
was
Humble Patience
from
Magic Hat
great white buffalo... great white buffalo...
but has since been discontinued
, much to the chagrin of beer drinkers all over the east coast.
Ithaca
CascaZilla
falls somewhere in between and has a malty zing that's countered by a hoppy zoing. Flavorful and original as it is, it's not off-putting or frightfully bitter. Stretching the bounds of Red Ale,
CascaZilla
is one monster of a brew. 7% abv, by the way. Not a monstrous alcohol content, but I wouldn't have too many if you happen to be out drinking in Tokyo. I'm just sayin'...
Red Ale lovers must have this beer. Hop Heads will dig it too. Heavier and maltier than its floral sibling,
Flower Power
,
CascaZilla
has a lot to offer beer lovers of every persuasion.
Representation: 1.0 / Accessibility: .97 / Style: .99 / Personal Preference: 1.0 / Total Score: 3.96 Flags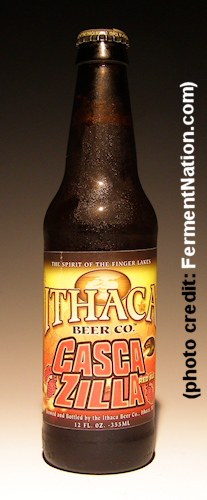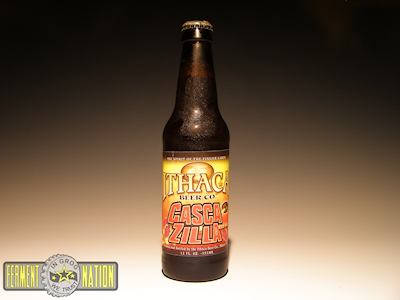 Click for hi-res image.