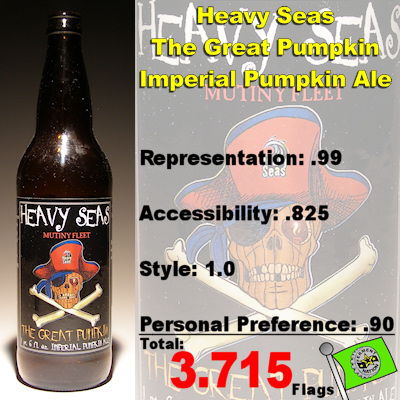 Heavy Seas
Mutiny Fleet
The Great Pumpkin
Imperial Pumpkin Ale:
Heavy Seas doesn't like to play softball when it comes to their beers' flavor and body. Potency also features prominently in the Heavy Seas lineup from Clipper City Brewing Company in Baltimore, MD. And Ahoy!! The Great Pumpkin arrived a little late to the Presidential stash to be reviewed in time for Halloween 2009 so it had to be set aside for a snowy day. So here goes:
The Great Pumpkin pours an awesome honey-golden-amber-pumpkin-orange color that fairly glows like a jack-o-lantern when you hold it up to the light. In the aroma and at the front of the sip, an interesting hoppiness and bitterness sneak up on you when all you expect is pumpkin pie. dig deeper and take a few deep whiffs. Breathe with purpose as you drink this big boy pumpkin beer and you will be rewarded with a treasure chest full of pumpkin spice aromas and flavors.
Imperial indeed at 8% abv, The Great Pumpkin is rich and powerful. Well blended are the pumpkin and the ale, though both are just a tad over the top. This actual review takes place in February, long after the pumpkin ales have been put away, so perhaps it's just a little out of context for me, but it seems to have crossed a line or two. That's fantastic for a Halloween party, but I seem to crave beers that are not only well-blended but also well-balanced. In other words, as much as I reach out to more and more pumpkin brews over the years, I've shifted my preference from "Pumpkin! Drink! It's a beer!" to a more subtle "Wow, what a great beer that has amazing pumpkin flavor!"
The Great Pumpkin reminds me a bit of Southern Tier's Pumking and Weyerbacher's Imperial Pumpkin. The Style Points are huge, inversely affecting the Accessibility. Totally worth a try if you're into pumpkin seasonals and a must-have if you're on a mission to try them all.

Heavy Seas Mutiny Fleet The Great Pumpkin Imperial Pumpkin Ale:
Representation: .99
Accessibility: .825
Style: 1.0
Personal Preference: .90
Total Score: 3.715 Flags