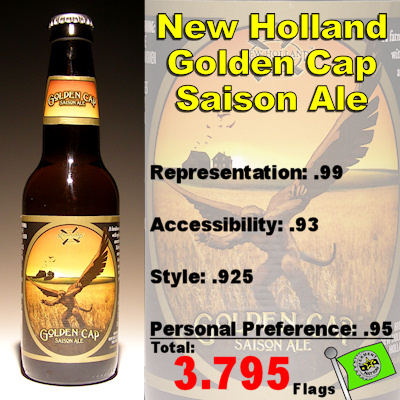 New Holland
Golden Cap
Saison Ale:
New Holland
has really hit the mark with this jazzy saison ale. This season's winter brews have tended to be rich and warming and on the roasty, toasty, darker side but this smart Spring selection has hit the shelves just in time for the warm weather. Saisons are typically light and refreshing with a wheaty influence and some citrusy notes to quench a hearty thirst on a hot day.
Golden Cap
is "A farmhouse ale brewed with spelt, an ancestor to wheat." And refreshing it is!
New Holland Golden Cap is a very drinkable Spring beer that can be utilized way into the summer months. As sumer brews appear on the shelves in the next few months, DO NOT pass over the Golden Cap if it's still available. This farmhouse ale has just a hint of spice and a tiny kick to it (weighing in at a saison-friendly 6.25% abv) and would be perfect to sip in the happy hour time slot on a deck bar or a back porch or by a pool for months to come.
Golden Cap has a light to medium body with a touch of Belgiany sweetness up front, followed by an almost pilsner-like hoppiness, but the dry finish just about evaporates off the tongue. This beer is very clean and goes down smooth. It's somehow rich and refreshing at the same time -- which I suppose is the whole point of a saison.
True French saisons tend to be a little yeastier with just a tad bigger body but New Holland manages to capture the European essence while imparting an American signature. It kinda reminds me of something Victory might brew. If you're familiar with the Presidential tastes (which you should be by now, dear citizen), you'll realize that it's a fine compliment.
New Holland Golden Cap Saison Ale:
Representation: .99
Accessibility: .93
Style: .925
Personal Preference: .95
Total Score: 3.795 Flags