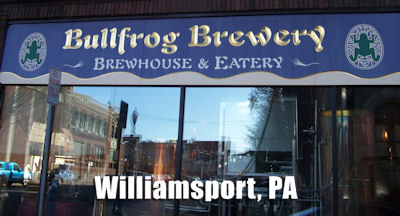 Jeremiah's Bullfrog Cafe:
On yet another Beercation through the Beermuda Triangle of Delaware, New Jersey, and Pennsylvania, El Presidente (that's me) and the Cabinet headed Northwest to Selin's Grove territory. The shining star of that particular adventure was
Jeremiah's Bullfrog Cafe
.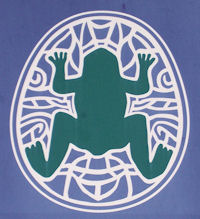 Cool blend of brewpub, beer bar, and lunch joint, Jeremiah's Bullfrog boasted some amazing brews and crazy hand-made taps. This place is colorful and friendly with a knowlegeable (if stoic) bartender serving up the goods. Take the family to lunch or geek out with some of your beer-loving buds at this cafe. The beers rock.
We took growlers of Wolfsblood and Edgar IPA home with us. I ended up with the Edgar IPA all to myself and opened it almost a week after it was poured. How did it hold up? Fresh as a daisy!
We also took home a 750ml bottle of Undead Ed, which is the Edgar made with brettanomyces Bruxellesis wild yeast. You know, I still haven't cracked that one open, but I have about four other wild IPAs in my personal cellars (right next to my cask of Amontillado), so the Cabinet may be called into session for a tasting.
Beer geeks need to get to
Jeremiah's Bullfrog
. It's a gem of a place with beers that will satisfy the adventurous and the safe alike. When you get there, keep Ferment Nation in mind and send us some reviews and pictures so we can share your thoughts with the Nation! Cheers!