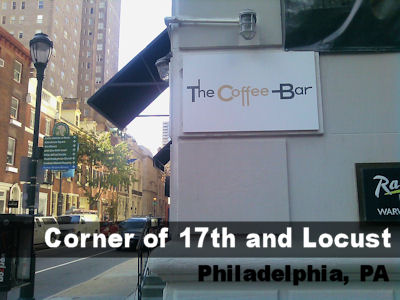 The Coffee Bar (Philadelphia, PA):
I couldn't stay away from this place for too long. The last time I was here, I had some great beers and a great sandwich for dinner, and then I was told of their $10 Beer + Lunch special. I couldn't wait. And I wasn't disappointed.
The Coffee Bar offers a beer special a day to go along with their lunch special. You get their beer of the day, any sandwich cold or hot on their menu, and their fabulous homemade potato chips (with Old Bay spice, yum!). The beer of the day I went was Ommegang Rare Vos. Meaning "sly fox", this beer has an interesting copper color. Not a deep copper, but rather a flat tone. It smells and tastes like a Belgian beer. What do I mean by that? Sure, Belgian beers are quite diverse, but I think you can identify the general flavor of a Belgian double or triple. At 6.5% abv, you don't feel overwhelmed by the booze, nor the syrupy taste some Belgian beers have. This is nice.
As for food, I had previously had their monte cristo, and this time I went with their hot turkey and bacon. Quite tasty. They serve it on a crusty artisan bread, and the bacon was cooked just right--not too crispy to crumble, but not floppy either. Loved it.
The Coffee Bar also had a smoked porter on tap, but I hesitated, because part of the beauty of a $10 lunch and beer in the city is that it is only $10! And then I experienced a pleasant surprise. They were switching out the taps, so I was offered a complimentary Victory Hop Devil on draught. Lucky me! I have to say that between the interesting beer selection, the good food, and the friendly service, The Coffee Bar will be a regular stop for me.