What
:
Nodding Head Brewery IPA 7.0% abv
Where
: Nodding Head Brewery and Restaurant
(Philadelphia, PA)
When
:
May 27, 2010
What-have-you
:
"Nodding Head's simply-named IPA is flowery to the nose with the scent of hops but also has a strong citrus flavor which gives it a tangy bite, not razor sharp like some of the overhopped IPAs out there. At 7% abv, it is tasty and a solid IPA without being overwhelming. Has that signature hoppy scent even halfway thru, which I like. This beer doesn't quit on you. This is bright and shiny tasting. I am liking this more the more I drink it."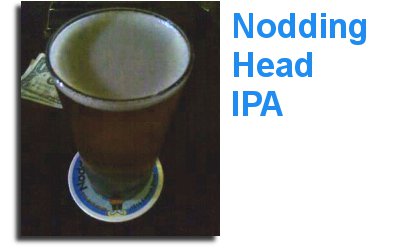 Although I did not get to sample any of the food, the bartenders were friendly, and the overall atmosphere is cool and old-school pubbish. Dark wood bar with some ornate carving work, and of course, the signature bobble-heads adorning the top of the bar. I will definitely be making a return visit to sample the rest of their beers, and I am especially psyched about returning for
Philly Beer Week
as they release
Flying Fish's
newest in their Exit Series (
Exit 6 - Wallonian Rye
). It's a collaboration between Flying Fish,
Nodding Head
, and one of my personl favorites:
Stewart's Brewpub
in Bear, DE. Can't wait.