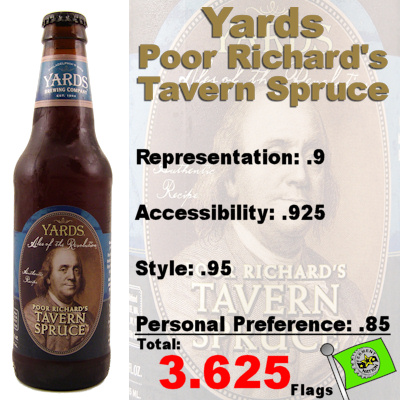 Yards Poor Richard's Tavern Spruce:
Ales of the Revolution Series. "Malt Beverage crafted with natural flavors (molasses, spruce tips, and sprigs)" 5% abv.
Brewed using Benjamin Franklin's original recipe, this revolutionary ale is the lightest of the three I've tried so far. George Washington Tavern Porter and Thomas Jefferson Tavern Ale are the others I've sampled. They are heavier hitters, no doubt. Poor Richard's aroma is pretty nice and refreshing, combining a slight sweetness with that evergreen essence of spruce. The flavor follows pretty much in line with the aroma but the molasses asserts itself with a dark richness. The finish is pretty dry, however, and can really be tasted best when a good belch is emitted from deep within the chest.
Poor Richard's Tavern Spruce is pretty good right out of the bottle, but even better when it's opened up a bit (poured into a pint glass). The medium body and tangy flavors smooth themselves out when drunk from the glass. Which makes me wonder how this brew would be on tap... probably even smoother... which couldn't hurt.
Yards Poor Richard's Tavern Spruce reminds me a bit of the Williams Brothers' Historic Ales of Scotland -- especially the Alba Scots Pine. Extremely earthy and different than traditional beers made with traditional ingredients, Poor Richard's definitely has an Olde World feel to it. In fact, all of Yards' "Ales of the Revolution" are said to be brewed using the original recipes of the hoary-headed gentlemen who grace the labels. If my memory serves me, the Ales were at one time brewed by Yards exclusively for the City Tavern in Old City, Philadelphia, PA. All of these Ales of the Revolution have lifted my patriotism. You know, if I could take a hot tub time machine, I think I would go back to the mid-to-late 1700s and spend some time with the Pounding Fathers to report on the authenticity of these recipes. And I could fill them in on the future Presidentes of our fine Nation...

Yards Poor Richard's Tavern Spruce:
Representation: .9
Accessibility: .925
Style: .95
Personal Preference: .85
Total Score: 3.625 Flags