IPA in a Can Showdown:
What do you get when the VP of the The Ferment Nation sits down with two very opinionated beer drinkers to review three IPA beers currently available in cans? You get a showdown! Since I forgot to have my fellow beer drinkers sign the standard Ferment Nation Citizen Reviewer Release Form (Form #FN-201983.32.B, to be supplied in triplicate directly to El Presidente), let's call them Citizen E. and Citizen N.
As a preface to the criticism and praise, it was pretty great that we could even review more than one craft brewery IPA in a can. Cans are great for coolers and for keeping beer cold, they are probably less expensive to produce for breweries, are easier to stack and transport and less prone to destruction if you drop one. BUT, I could not name off the top of my head a single craft beer available in a can other than Dale's Pale Ale. So why the reluctance on the part of craft breweries? Not sure. Maybe its a pride thing- big breweries use cans, craft breweries use casks and bottles? I guess we will see in the future, but I say, especially for summertime, let's see more cans!
So, we were three reviewers drinking three IPA beers in cans. We conferred with initial tastings and then secondary tastings, and then passed judgment on all three as to the order of quality in taste and representation as India Pale Ales. Here are the notes that were taken. In the interest of propriety and politeness, I will say that the views expressed in the following notes do not necessarily represent the views of The Ferment Nation.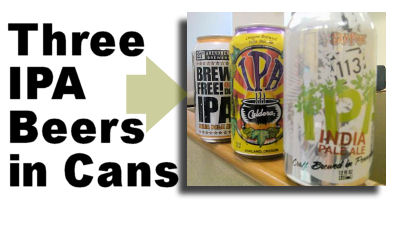 1. 21st Amendment Brewery - Brew Free or Die IPA
- Awful "yommy" aftertaste
2. Caldera Brewing Company IPA
- Not undrinkable, but close
- Can design and green tab bad calls
- Lightest color of the three
- Grassy, excellent aftertaste
- Bite that we were looking for
- Does not taste like it came out of a can
The clear winner was
Sly Fox's
Route 113 IPA
. In second place was 21st Amendment, and coming in last was Caldera. And although Citizen E. has a connection to
Suzanne Woods
of
BeerLass.com
fame, I will not doubt her opinion as being unduly influenced. I totally agree with the overall judgement. As a final comment, I would say that all three IPAs fall short of outstanding representatives of the style like
Green Flash's
West Coast IPA
, or even recent favorites of mine like
Bell's
Two Hearted Ale
and
Dark Horse
Crooked Tree IPA
. Obviously, now there are a whole lot more craft beers in cans than a year or two ago, and producing beers in cans could be the future, but it looks like there is still much work to be done. And so we wait, patiently, thirstily.