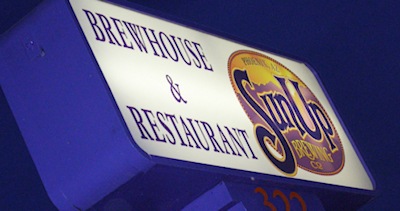 Sun Up Brewing Company (Phoenix, AZ):
Earlier this year I had a chance to visit an old friend of mine in Phoenix, AZ. I really didn't know anything about the beer scene in Arizona, but there were at least of couple of brewpubs in the Phoenix area , and Sun Up Brewing Company looked good to me.
Since I was the only one drinking that night, I had to make it worth my while and ordered their house sampler. I have already posted mini-reviews of the beers already, but they are worth mentioning again. The
Stinger Pale Ale
, their
Amber
, and their
Light Rail Cream Ale
were all a little light on taste but definitely smooth and easy to drink. I think this is something city brewpubs try to focus on: providing drinkable alternatives to beers like Coors Light and Budweiser.
Sun Up
succeeds here.
Unfortunately, I have a bone to pick with their
Horizon Hefeweizen
, and
Trooper IPA
. When I order a wheat beer, I want it to taste wheaty, have a cloudy look to it. Perhaps it is unfair to compare it to this beer, but when you put a
Weihenstephaner
Hefeweissbier
up to your nose, you can tell right away it's a wheat beer. Not the case with
Sun Up's
Horizon
. Same thing goes for their
Trooper IPA
. It's an IPA, give me some hops! With ultra-uber-hoppy beers like
Weyerbacher's
Double Simcoe
or Victory's
Hop Wallop
, you can still make a beer pretty hoppy and not have it be over-board, but don't give me a timid IPA.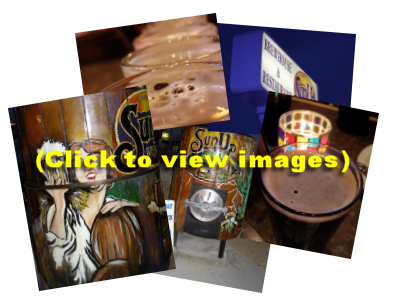 Anyone who knows me won't be surprised that their
Vanilla Porter
won me over. I liked it because it tasted like vanilla and like a porter. Go figure.
Overall, I really liked this brewpub. The service was friendly, and the food was good, too. I had their Sante Fe Chicken sandwich with guacamole, green chiles, and pepper jack cheese. Quite tasty. They also had really tasty french fries, which is always a plus in my book. I will say this, too, I probably should have sampled their seasonal beers. With other brewpubs, "house beers" are meant to be pretty tame and un-adventurous. If their seasonal beers are closer to the quality and taste of their vanilla porter, I will go back for more.