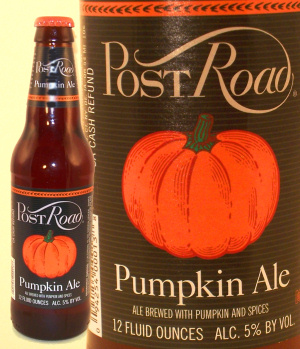 Post Road Pumpkin Ale:
Pale and pumkiny with a dry finish. This was my fave pumpkin brew at one time, though these days I prefer the bigger beers with a richer body and creamier mouthfeel. The pumpkin aroma is really nice and a light body makes it extremely drinkable. If you don't like pumpkin ales or pumpkiny stuff, stay away from this one. The pumpkin is a pretty prominent feature. I think its a little thin for my tastes but not bad. Not sweet at all, Post Road is practically the opposite of Saranac with a dry approach. Almost as if the pumpkin was the goal from the outset, and the beer was reverse-engineered to produce that signature aroma and flavor.
This fall brew falls in the middle of the pack on the scale of introductory pumpkin beers. Try the milder ones first, move on to Post Road, and then head toward a fuller-bodied brew. That's what I did. When I tasted Post Road Pumpkin Ale I became a fan of the style. I've since taken a fancy to the slightly more... well, fancy. But Post Road is a solid choice for anyone who enjoys Shipyard but needs more pumpkin goodness.
(Click HERE to see the results of the Ultimate Pumpkin Showdown!
)