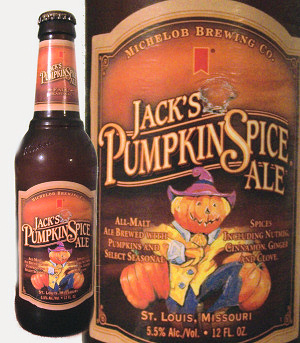 Michelob
Jack's Pumpkin Spice Ale
:
Well, I'll be schnookered. This isn't what I expected, really. Of course it is what I should have expected. the good-natured visage of Jack (at least I think that's the name of the friendly pumkin-headed gent on the label) and the "Pumpkin Spice" moniker whould have one believe that he or she is in for a dessert-like beverage. No, it's not a latte. This is a
Michelob
ale with a fairly subtle evenly spiced pumpkin flavor.
Can I make a confession? I... I like
Michelob
. Really. Even though it comes from a soulless giant brewery, I would consider Mich the shining star of their product offering. This is a pretty darn good beer. Actually, it's not in the upper echelon of Pumpkin ales but it respectable beyond a shadow of a doubt. Not the smoothest or the pumkiniest but
Jack's Pumpkin Spice Ale
has more body than some of the other brews I've had. Not extraordinary in any real way but certainly more than ordinary. Worth a taste, for sure. Any
Michelob
drinker will be digging it.
If
Post Road
is a bit much in the pumkin department but too thin in the body,
Jack's PSA
is a must-try.
(Click HERE to see the results of the Ultimate Pumpkin Showdown!
)