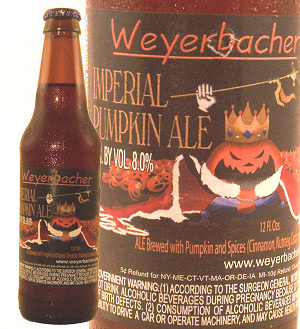 Weyerbacher Imperial Pumpkin Ale:
This would be superfly on a camping trip on a cold night sitting around a campfire. Need to warm up? Weyerbacher's Imperial Pumpkin Ale does the trick with a warming alcohol kick. 8%abv is no joke so be careful how many of these you take down while you attempt to assemble those s'mores.
This Imperial Pumpkin is a medium to full-bodied ale with lots of spices. Yes, they hit your tongue but really go through the nose when you exhale. Then that spiciness stays a bit in your chest. That's part of the mysterious alchemy of this nice brew. I had this on my beercation last fall and remember it being a little less imperial. But now, make no mistake: Weyerbacher soes make a fine rendition.
You know, Weyerbacher isn't always hanging around your local liquor store so grab it if you see it. Take the Imperial Pumpkin Ale to a Halloween party and make some waves. But only if you're going to a party with beer nerds. There are cheaper and less challenging pumpkin ales out there if you are strictly after a novelty beer. Weyerbacher doesn't make novelty beers.
(Click HERE to see the results of the Ultimate Pumpkin Showdown!
)