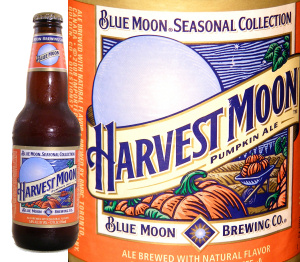 Blue Moon Harvest Moon:
Pretty smooth and very drinkable. This is the least exquisite of all the pumpkin ales, but that is NOT a bad thing. In fact, I would consider Blue Moon Harvest Moon to be a "gateway" beer that could lead the way to the festive and spicy world of pumpkin brews. It was, in fact, my "gateway" beer.
Harvest Moon was my very first pumpkin ale all those years ago. Oh, I fell for its seasonal stylings but have since let my tastebuds wander. Just as Blue Moon's white ale is a nifty introduction to the world of unfiltered ales, so is Harvest Moon a cool first step toward Halloween madness. Very accessible but I'm afraid not very stylish. If you've never had a pumpkin beer, start with Blue Moon's Harvest Moon. When you start to wander through the pumpkin patch, you will be spirited away to a darker, more mysterious world. Beware.
(Click HERE to see the results of the Ultimate Pumpkin Showdown!
)