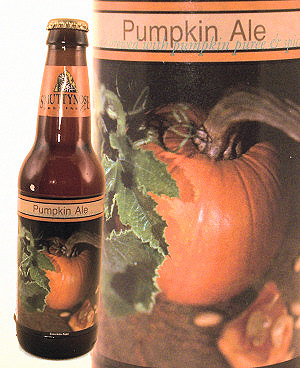 Smuttynose Pumpkin Ale:
Extremely even. Medium-bodied but on the larger side of medium. Super smooth ale. An exceptional beer even without the pumpkin. But add the spicy flavor of everyone's favorite gourd, and a true legend emerges. This beer could be brewed and enjoyed all year round, but of course it's perfect for the Halloween holiday. Take this bit of advice: This beer is so elegant, classy, and solid that it is NOT a gimmicky Halloween beer. Save some for Thanksgiving and take it to the in-laws' house (if you don't mind sharing your private stash with them). Smuttynose has all of the lovely traits that I found in the Buffalo Bill's offering. Smuttynose takes them to a slightly higher level. Very impressive.
Everything I've ever tried from Smuttynose has been excellent. The Pumpkin Ale is no exception. It's an awesome beer, first and foremost. It's an awesome pumpkin beer, too. Don't miss it this fall. Anyone who says they like beer must try this one before it goes away for another year.
(Click HERE to see the results of the Ultimate Pumpkin Showdown!
)