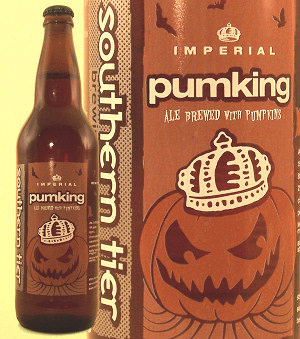 Southern Tier Imperial Pumpking:
Great Googly Moogly. Southern Tier has never been known to pull punches (check out the Jahvah and Creme Brulee). They maintain a hard line on flavor and take an aggressive stance here on pumpkin. Imperial? I'll say. This ale is brimming with body and captures the essence of a pumpkin dessert better than any I've tried. Might it be too big for the average beer drinker? It might. Powerful pumpkin aroma and dreamy pumpkin flavor mask the 9% abv. Kinda. You can't really taste the alcohol, but it is so rich that you may not be able to sit and go to town on it. Not exactly a "session" beer.
The label recounts the story of Puca, a Celtic folklore critter who absconds with wayward travellers. This Pumpking is not for the faint of heart. But give yourself over to it and become one of the haints in your neighborhood. Go haunt the sober people. Just don't drive.
P.S. The aroma is JUST LIKE a pumpkin spice candle!
(Click HERE to see the results of the Ultimate Pumpkin Showdown!
)